Buy 77 nicotine pouches (77 SNUS) at The Royal Snus Online! NEW! 77 Nicotine Pouches - many unique and exciting flavours delivered with a high, medium and low nicotine strength. All 77 Nicotine Pouches are served as slim portion and sits discretely under your lip, completely stain-free and provides a long lasting flavour experience. Enjoy your favourite 77 pouches today!

About 77 nicotine pouches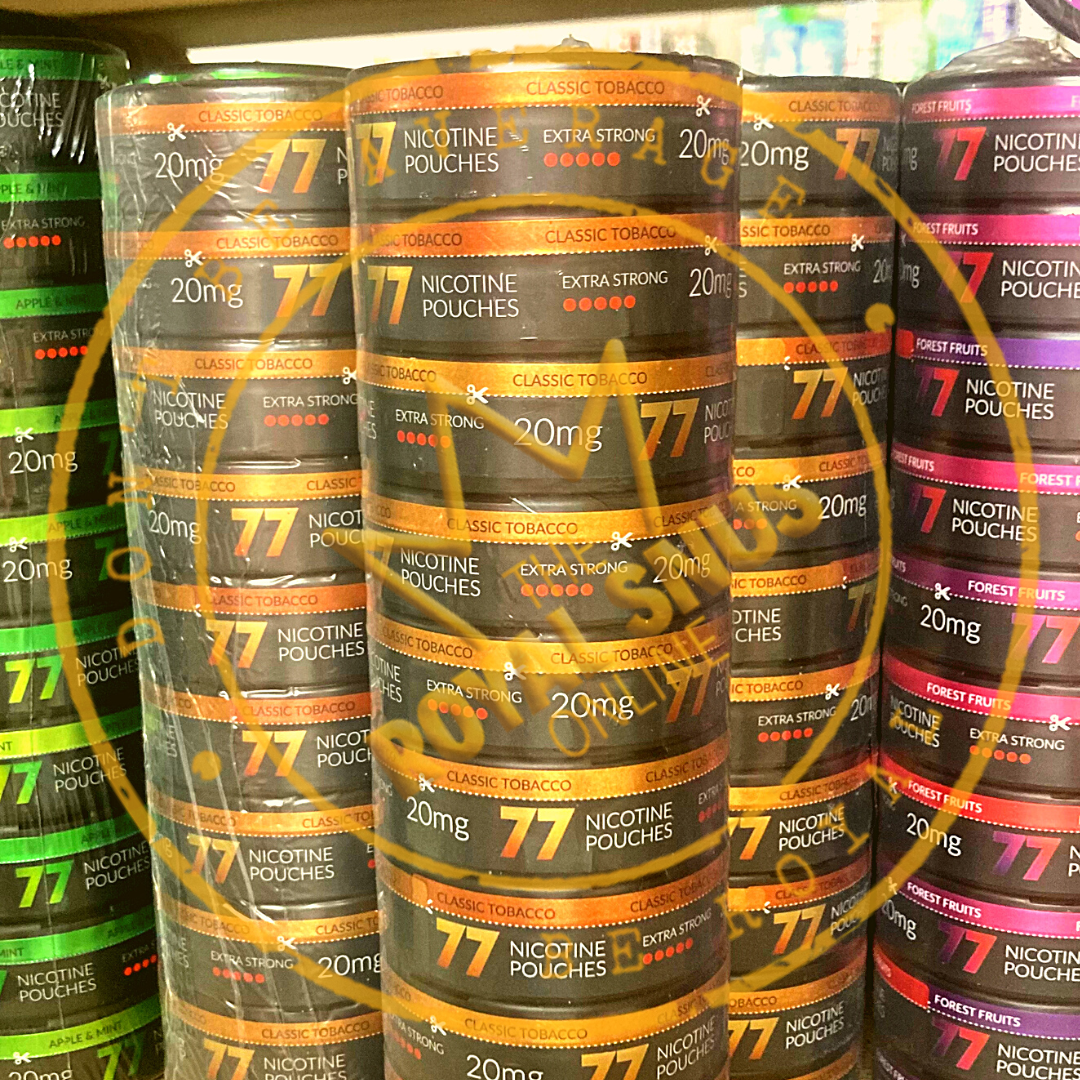 77 – is a new brand of nicotine pouches. 77 promote the latest and the safest nicotine replacement without electronics, smoke and burning. 77 nicotine pouches are based on high-quality medical nicotine and cellulose. 77 nicotine pouches don't contain tobacco. 77 nicotine pouches are produced on modern equipment under the supervision of experienced technologists and engineers who created tobacco free products. Also 77 have their own laboratory where private label products are tested. Currently, 77 cooperates with Polish and international trade networks as well as domestic wholesalers and specialist shops distributing tobacco products, e-cigarettes, liquids and accessories. 77 nicotine pouches has 2 series of products - classic series and dark series nicotine pouches.
Why to buy 77 nicotine pouches
MEDICAL NICOTINE
77 nicotine is extracted exclusively from premium tobacco leaves and has the highest degree of purification.
FLAVORINGS
Highest quality american food flavorings.
MODERN LABORATORY
77 own test lab.
EXPERIENCE
77 has over 12 yers experience in tobacco and vape industry.
77 nicotine pouches flavors
FRESH MINT

It is an ideal choice for every fan of refreshment, the delicious taste of crispy mint is a classic in its pure form.

ICE MINT

77 pouches Ice Mint will surprise every lover of low temperatures! The powerful refreshment of the ice mint brings to mind the cold winter days, and it's all locked in a tiny white pouch!

FOREST FRUITS

77 pouches Forest Fruits is a dream mix for every forest hiker! The aroma of forest fruits is enchanting with its intensity and carefully selected combination of flavours!

APPLE & MINT

An incredible new fresh taste in the 77 line! A fresh, juicy, crisp apple with a mint flavor.

CHERRY

Juicy taste of garden cherries, the legendary flavor is already available

BLACKCURRANT

Ripe blackcurrant berries saturated with sour-sweet juice. Excellent taste for those who are tired of the taste of regular mint and are looking for something new.

CLASSIC TOBACCO

The classic tart taste of tobacco. The aroma and richness of this flavor embodies a world of riddles. Velvet aftertaste and spicy notes will not leave indifferent connoisseurs of such tobacco combination.

PEACH & MINT

The taste is full of summer. Juicy peaches - a great summer treat, which can not be refused. Bright and juicy fruits, whose pulp shimmering with all shades of summer and warm sunny days, giving energy to every drop of this nectar

RASPBERRY

Juicy natural taste of homemade raspberries will not leave indifferent fruit lovers. Nicotine pads have a bright raspberry aroma, which is difficult to confuse with something. The flavour of this garden berry tastes great, which changes from more sour to sweeter notes.

STRAWBERRY

The fragrance of familiar strawberries from childhood. Juicy garden strawberries, which have just been ripped off the bed.

COLA & VANILLA

Cola & Vanilla is the taste of regular coke but the vanilla flavor adds a bit more body and sweetness to usual coke formula. The aroma creates a unique flavor that you don't wanna miss. Fans of Coke will love this!

TROPICAL MINT

Is a 20mg range mixed of Tropical aroma flavors that will remind you of those Epic & summer chill vibes while keeping you fresh and feel the most alive with the little touch of Mint that added to it
Strenght levels
77 pouches have different types of nicotine strength level — for experienced users and for beginners.
3mg – Light
6mg – Medium
12mg – Strong
My name is 77 nicotine pouches, but people call me ...
The original and correct name of 77 products are 77 nicotine pouches, but in each country there is different ways how they call them - 77 nuuska, 77 prill, 77 prilla, 77 nicopods, 77 snuff, 77 снюс, 77 pouch, 77 pouches, 77 nicotine bags, 77 nicotine pillows, 77 chew bags, 77 nico pods, 77 chewing tobacco, 77 chew, 77 dip, 77 dipping tobacco, 77 snuss, 77 السويدية snus, 77 smokeless tobacco, 77 bag under your lip, 77 snus suédois, 77 sachets de nicotine, 77 Snus sueca, 77 bolsas de nicotina and much more.
77 tobacco free nicotine pouches are the perfect choice for anyone looking to enjoy the benefits of nicotine without the harmful effects of tobacco. These pouches provide a convenient and discreet way to get your nicotine fix, with a satisfying flavor and a sleek, stylish design. Made from high-quality, all-natural ingredients, 77 pouches are a healthier alternative to traditional cigarettes and other forms of smokeless tobacco. They come in a range of delicious flavors, including mint, wintergreen, and peach, so you can choose the one that suits your taste. Unlike traditional nicotine pouches, 77 pouches do not contain any tobacco, making them a safer option for those looking to reduce their tobacco intake or quit smoking altogether. They are also tobacco free, which means they can be used anywhere - even in places where smoking is prohibited. With their convenient packaging and satisfying flavor, 77 tobacco free nicotine pouches are the perfect choice for anyone looking to enjoy the benefits of nicotine without the harmful effects of tobacco. Try them today and experience the difference for yourself.
Looking for a convenient and hassle-free way to shop for the 77 nicotine pouches products you love? Our website offers a range of benefits that make online shopping a smart choice. With a user-friendly interface, easy navigation, and a wide selection of products to choose from, you can find what you need quickly and easily. Our website also offers secure payment options and fast, reliable shipping, so you can receive your products quickly and safely.