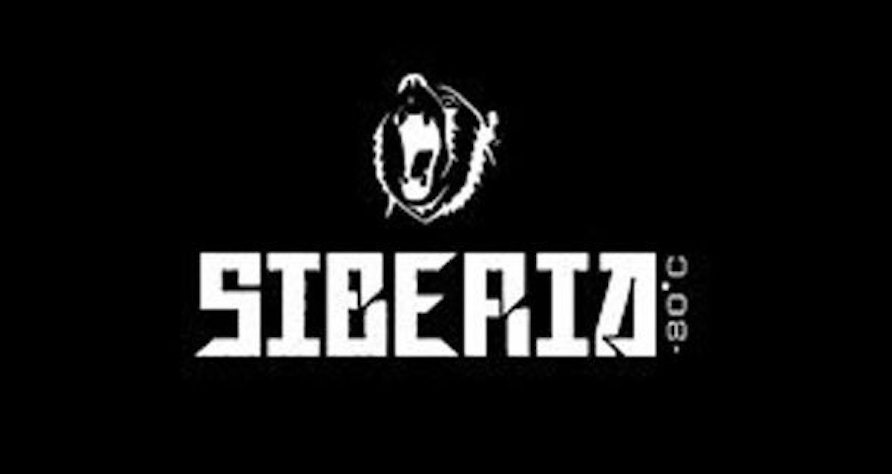 Buy SIBERIA snus at The Royal Snus Online! Siberia snus is one of the world's strongest snus and it is unique in many ways. The most notable for SIBERIA snus that it is served with extremely high nicotine content of 43 mg/g and for the minty notes. The manufacturer GN Tobacco emphasizes that it is approximately 43 mg nicotine per gram in SIBERIA White Dry version snus what makes Siberia snus the most strongest Swedish Snus available on market. Siberia is one of the most popular Swedish snus products on market right now, give a try!

About Siberia snus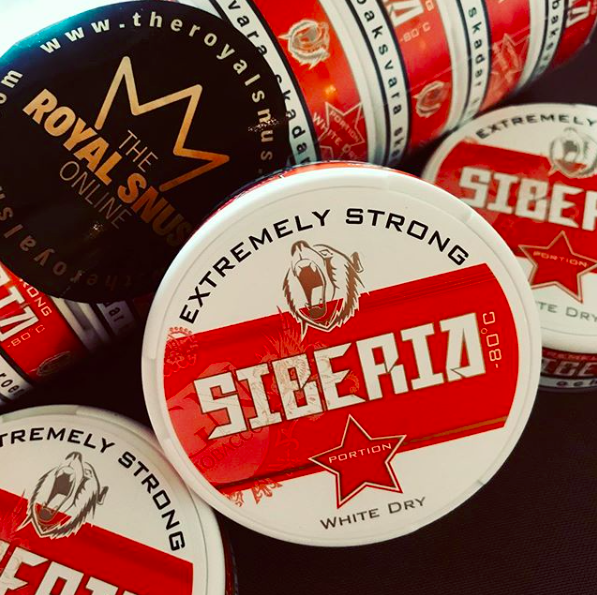 Siberia snus is an extremely strong snus, not for nothing its name is Siberia. Siberia is a region in Russia where the winter is very cold and the temperature somethimes can drop even below - 80 degrees. Which is similar to the temperature on Mars. Can you imagine it? The titles of Siberia snus mention minus 80 degrees, which symbolizes how strong Siberia snus is. Siberia snus is like an explosion in the mouth and gives a surprisingly strong feeling.
At The Royal Snus Online we offer 14 types of Siberia snus products. Siberia snus is the strongest snus produced in Sweden.
If you like extreme and strong snus, then you should definitely try Siberia snus!
SIBERIA snus is manufactured by GN Tobacco. Sweden GN Tobacco Sweden AB was founded in 2009, under the name SNUSAB AB then was renamed GN Tobacco AB. GN Tobacco Sweden AB state-of-the-art factory in Enköping manufactures snus chewing tobacco in any format, Loose, and all possible portion chewing tobacco and snus formats as white, wet, dry long, slims, mini, maxi, and of course various nicotine levels. GN tobacco is also a manufacturer of tobacco-free nicotine pouches, and "All White" products with just a minimum of tobacco. Production was established in August 2014. GN Tobacco Sweden AB second factory in Bispgården was rebuilt in 2014 for tube production with a capacity of 150m filter tubes per month. One of GN Tobacco's aims is to create freedom of choice for consumers. Choose tobacco products from our huge lineup of flavored favorites and find the ones that fit your taste profile, style, and individuality. GN Tobacco produces and distributes snus chewing tobacco, and nicotine pouches to more than 70 countries in the World. One of GN Tobacco's goals is to create freedom for consumers to choose tobacco products in a market that is otherwise characterized by ancient traditions and monopolistic thinking. GN Tobacco AB distributes chewing tobacco and snus in Sweden, Norway, Russia, US, Israel, South Africa, Switzerland, Norway, Czech Republic, Slovakia, Serbia and South Korea! GN Tobacco snus, including Siberia snus, is popular with more than a million users worldwide.
Siberia snus is available in more flavors and since 2021 it is also available with natural tobacco flavor, known as Siberia Black series snus. Siberia snus are available in different types as original portion, white portion, slim and now also mini. Siberia mini are available for Siberia Black and Siberia White Dry. We have all types of Siberia, feel free to check them all! GN Tobacco are also well known for products like Siberia snus, Odens snus, Olde Ving snus, White Fox nicotine pouches, Byron snus, Bull Dog nicotine pouches, Lenny snus, Anglaholm snus, Islay Whiskey snus, Taboca snus and more.
How to keep Siberia snus fresh?
Store Siberia snus in a dry, dark and cool place. Storing Siberia snus to maintain its quality is quite simple and doesn't require nothing special. The best place to store Siberia snus is in the refrigerator. The refrigerator will provide coolness and even temperature. Storing snus in proper way will ensure that snus retains its strength, taste and aroma for longer without losing quality.
Pro tip! If you want to keep the snus for later use or have bought it in bulk and can't use it right away, you can store it in the freezer. Please keep in mind that in freezer you can store only snus, but not nicotine pouches.
How many snus bags are served in Siberia regular size snus Can?
In Siberia red, Siberia Blue and Siberia black regular size snus cans there are 20 snus bags.
Siberia snus flavors
Siberia snus is famous with Spearmint and mint prominent flavors. But that's not all! Siberia snus also have snus products with classic tobacco taste, never the less it is now also available in mini portion, what's called Siberia -80 Xtremely Black White Dry Mini to fit comfortably under your lip.
Siberia snus sizes and types
Siberia snus has several types - White, White slim, Brown slim, Brown portion, Portion, White dry, White dry slim and White dry mini. The difference between these types of Siberia snus is the portion size, strength and moisture level. Siberia -80 Brown Slim, Siberia-80 Brown Portion, Siberia-80 Xtremely Black Portion and Siberia-80 Xtremely Black Slim Portion are more moisturized products than Siberia Dry snus products. Siberia snus Dry products are drier, which means that they flow less and are suitable for users who like dry snus. Siberia slim has narrower bags than Siberia portion snus. The Siberia mini has small bags that are about half the size of Siberia portion snus bags. Siberia snus also offers large packages weighing 500g.
| | | |
| --- | --- | --- |
| Siberia snus White | Siberia snus White dry | Siberia snus Brown Portion |
| Siberia snus Brown slim | Siberia snus White dry slim | Siberia snus White slim |
TOP 3 MOST POPULAR SIBERIA SNUS PRODUCTS
The manufacturer GN Tobacco emphasizes that it is approximately 43 mg nicotine per gram in SIBERIA White Dry version snus what makes Siberia snus the most strongest Swedish Snus available on market.
SIBERIA -80 WHITE DRY 16G
Siberia -80 White Dry 16G snus (Siberia red) - extremely strong snus with a cool refreshing flavor of mint. Produced by GN Tobacco. Served in regular pouches with EXTREMELY high nicotine level.
SIBERIA -80 WHITE DRY SLIM
Siberia -80 White Dry Slim snus (Siberia red) - an extremely strong snus with a cool refreshing flavor of mint. This product is served in slim portions with EXTREMELY high nicotine level. Manufactured by GN Tobacco.
SIBERIA -80 XTREMELY BLACK WHITE DRY
Siberia -80 Xtremely Black White Dry snus (Siberia black) - latest from Siberia family. Siberia -80 Xtremely Black White Dry is a super strong snus from the Siberia family with the same high nicotine content of 43mg/g. Instead of the fresh mint taste, this one is with classic taste of tobacco served in white portion.
My name is SIBERIA Snus, but people call me ...
The original and correct name of Siberia products are Siberia snus, but in each country there is different ways how they call them - Siberia nuuska, Siberia prill, Siberia prilla, Siberia nicopods, Siberia snuff, Siberia снюс, Siberia pouch, Siberia pouches, Siberia nicotine bags, Siberia nicotine pillows, Siberia chew bags, Siberia nico pods, Siberia chewing tobacco, Siberia chew, Siberia dip, Siberia dipping tobacco, Siberia snuss, Siberia السويدية snus, Siberia smokeless tobacco, Siberia bag under your lip, Siberia snus suédois, Siberia sachets de nicotine, Siberia Snus sueca, Siberia bolsas de nicotina and much more.
SIBERIA is a high-quality brand of Swedish snus that offers a range of flavors and strengths to suit different preferences. Snus is a type of smokeless tobacco that originated in Sweden and has gained popularity in recent years as a safer alternative to cigarettes and other forms of smokeless tobacco. SIBERIA snus is made with the finest ingredients and has a reputation for providing a consistent and satisfying experience. Unlike traditional chewing tobacco, snus does not require spitting and can be discreetly used in public. Give SIBERIA snus a try and experience the unique taste of Swedish snus for yourself.
Looking for a convenient and hassle-free way to shop for the Siberia Swedish snus products you love? Our website offers a range of benefits that make online shopping a smart choice. With a user-friendly interface, easy navigation, and a wide selection of products to choose from, you can find what you need quickly and easily. Our website also offers secure payment options and fast, reliable shipping, so you can receive your products quickly and safely.
Why to buy Siberia snus at The Royal Snus Online shop?
The Royal Snus Online store offers all kinds of Siberia Snus directly form Sweden. Our main goal is customer satisfaction and maintaining high quality standards, which is why we provide the widest range of Swedish Snus products available online. We provide fresh products and fast delivery. Extremely fast shipping to the US from Sweden - within 2 - 5 working days with UPS! Order Siberia snus today and enjoy cold blast! We offer wide range of GN Tobacco snus and nicotine pouches products at www.TheRoyalSnus.com. Also feel free to check out other snus and nicotine pouches brands from smokeless tobacco world what you havn't tried yet from our selection.
AUDIO VERSION: