Buy KAPTEN snus at The Royal Snus Online! The KAPTEN snus comes from the Danish manufacturer AG Snus. Wide range of Kapten snus at The Royal Snus Online. The KAPTEN snus brand has a foundation that is based on knowledge from five generations of tobacco crafts. The brand was launched for the first time in 2013 and has since then been constantly updated with new flavor and snuff forms. First, Loose, Portion and White were launched, but now there are over 15 different versions of the KAPTEN snus. Among other things, snus with a taste of mint, melon, licorice and salmoniak. AG Snus are also well known for products like SISU snus and SIRIUS nicotine pouches, Crafted Snus Whisky, SHIRO nicotine pouches and KAPTEN snus.

HISTORY of Kapten snus:
KAPTEN snus are manufactured by AG Snus in Denmark known also as ASSENS TOBAKSFABRIK. KAPTEN QUALITY snus products in 5 generations. Assens Tobaksfabrik has (now known as AG SNUS), since its inception in 1864, concentrated on offering tobacco consumers products of the highest quality. AG Snus strive to satisfy their customers by being innovative and developing new and attractive products. Throughout the history of Assens Tobaksfabrik, they have focused on following changes in consumer demands. Assens Tobaksfabrik has been family-owned for 5 generations, which means that we have been able to have a long-term vision for the company's development, and at the same time over the years adapt to changes and wishes for new tobacco products. Philip Morris International acquires AG SNUS in 2021. KAPTEN snus is well know all around the globe for it's wide range of flavours, strengths, quality and never the less affordable price. Kapten snus are known for the classic tobacco flavour, original tobacco and these days it is also available in many variations for exaple as fresh Melon, Lingon and Vargtass. Kapten snus are served in white portion snus, original portion snus, loose snus and also in mini portion pouches. Order all of KAPTEN snus at The Royal Snus Online shop!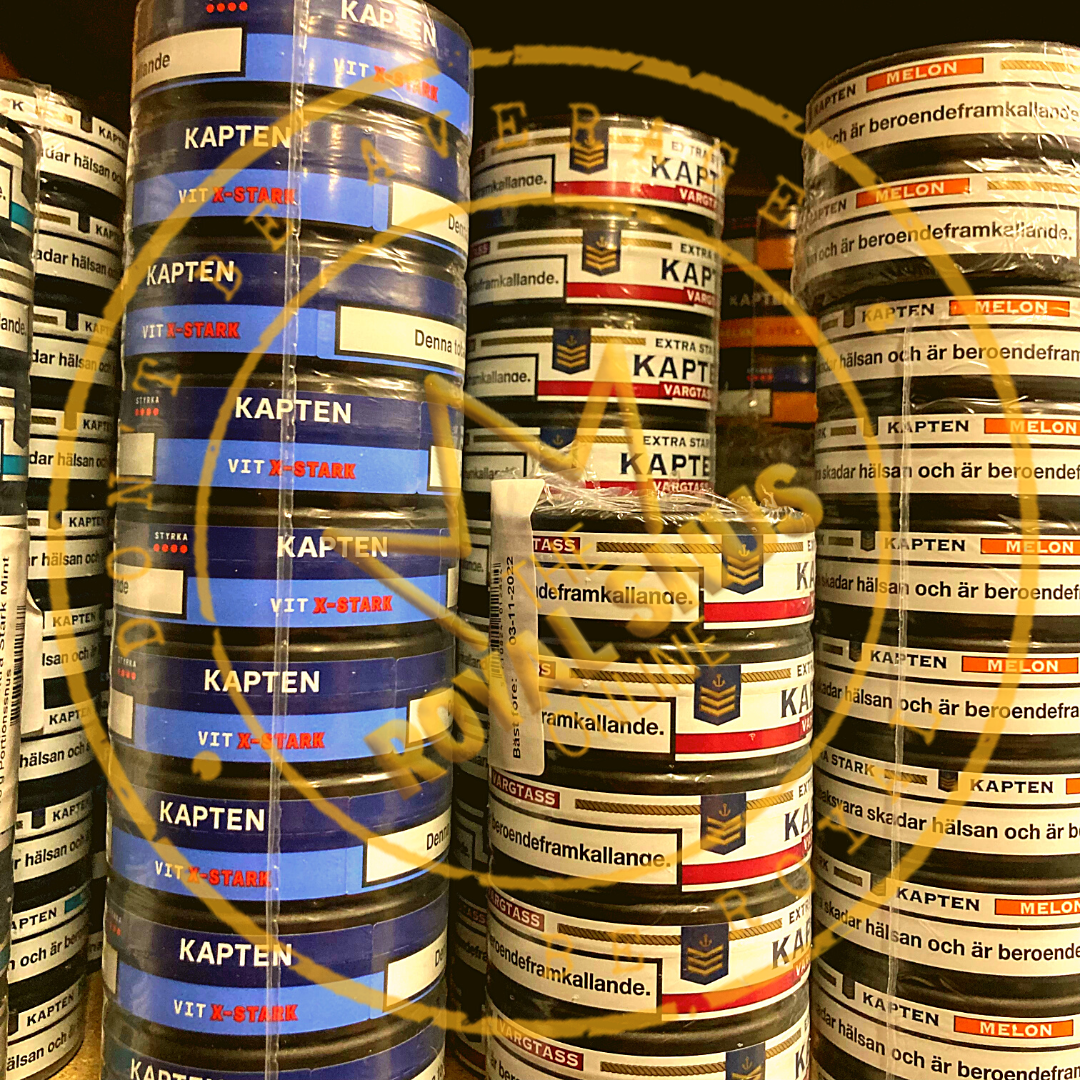 My name is KAPTEN Snus, but people call me ...
The original and correct name of KAPTEN products are KAPTEN snus, but in each country there is different ways how they call them - KAPTEN nuuska, KAPTEN prill, KAPTEN prilla, KAPTEN nicopods, KAPTEN snuff, KAPTEN снюс, KAPTEN pouch, KAPTEN pouches, KAPTEN nicotine bags, KAPTEN nicotine pillows, KAPTEN chew bags, KAPTEN nico pods, KAPTEN chewing tobacco, KAPTEN chew, KAPTEN dip, KAPTEN dipping tobacco, KAPTEN snuss, KAPTEN السويدية snus, KAPTEN smokeless tobacco, KAPTEN bag under your lip, KAPTEN snus suédois, KAPTEN sachets de nicotine, KAPTEN Snus sueca, KAPTEN bolsas de nicotina and much more.
Kapten snus is a popular brand of Swedish snus that has been enjoyed by tobacco enthusiasts for many years. Snus is a type of moist powder tobacco that is placed under the upper lip for extended periods of time. It is a convenient and discreet way to enjoy the flavor of tobacco without having to smoke. Kapten snus is made with high-quality tobacco and natural flavors, and it comes in a variety of different flavors to suit different tastes. Some popular flavors include mint, bergamot, and licorice. Kapten snus is a much safer alternative to smoking, as it does not produce any harmful tar or other toxins. If you are looking for a tasty and convenient way to enjoy tobacco, consider trying Kapten snus.
Looking for a convenient and hassle-free way to shop for the Kapten Swedish snus products you love? Our website offers a range of benefits that make online shopping a smart choice. With a user-friendly interface, easy navigation, and a wide selection of products to choose from, you can find what you need quickly and easily. Our website also offers secure payment options and fast, reliable shipping, so you can receive your products quickly and safely.