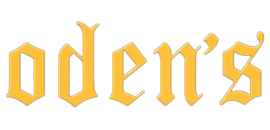 Buy Odens snus at The Royal Snus Online! Odens snus is a brand in the low-price snus segment, but it is well know for it's great quality and wide range of types and flavors. Odens snus are one of the most popular Swedish snus products on market right now and it is available in many flavors as mint, menthol, wintergreen, lemon, melon, citrus, natural tobacco flavor and much more.

ABOUT ODENS SNUS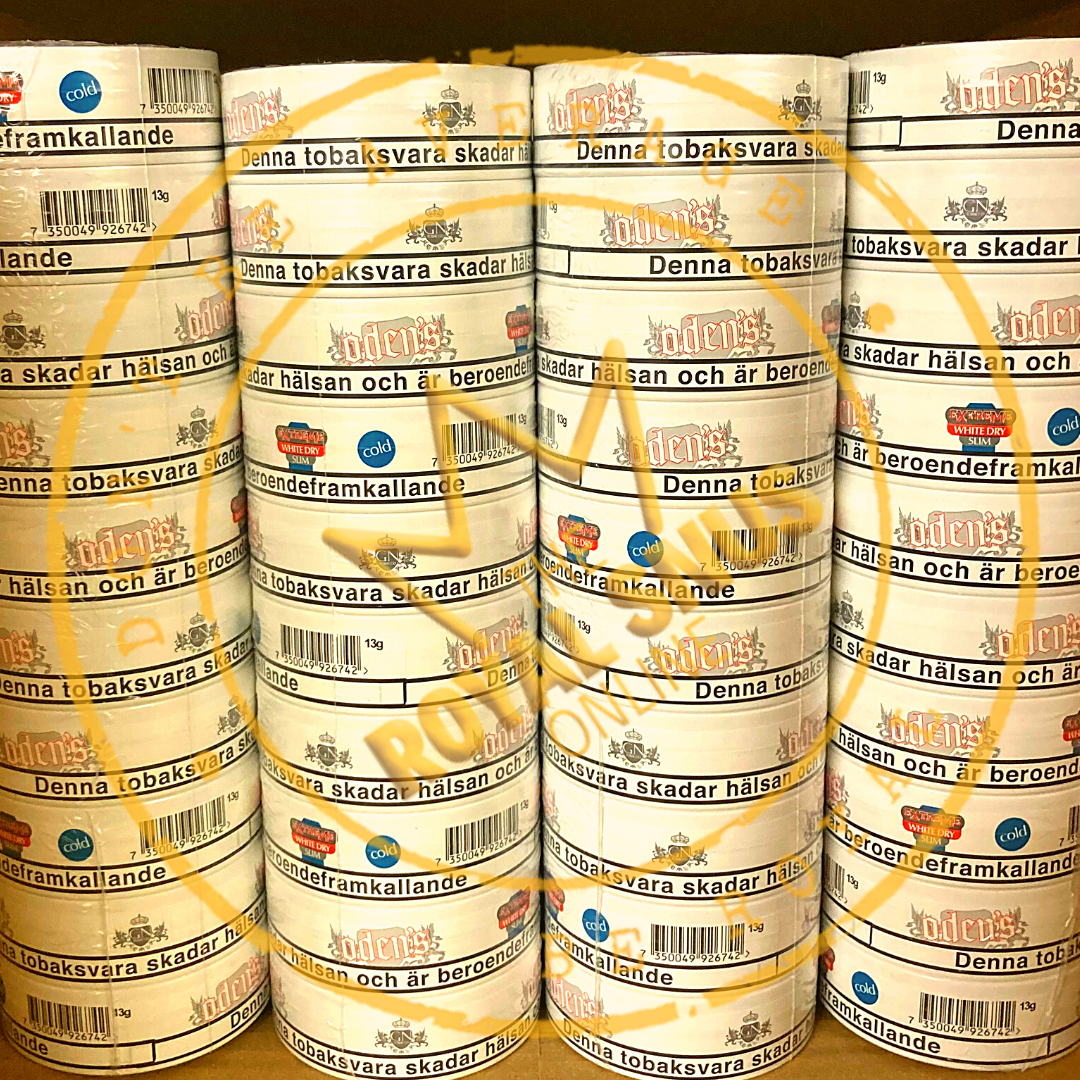 Odens snus is a widely popular brand around the world, from America to Antarctica. Odens snus is known for its wide range of snus flavors, strenghts and types. Odens snus are available in different shapes as slim, white portion, original portion and loose. Odens snus is manufactured by GN Tobacco Sweden and is made at the snus factory in Bispgården. The snus is available in many different flavor variants. GN Tobacco are also well known for products like Siberia snus, Odens snus, Olde Ving snus, White Fox nicotine pouches, Byron snus, Bull Dog snus, Lenny snus, Anglaholm snus, Islay Whiskey snus, Taboca snus and more.
Sweden GN Tobacco Sweden AB was founded in 2009, under the name SNUSAB AB then was renamed GN Tobacco AB. GN Tobacco Sweden AB state-of-the-art factory in Enköping manufactures snus chewing tobacco in any format, Loose, and all possible portion chewing tobacco and snus formats as white, wet, dry long, slims, mini, maxi, and of course various nicotine levels. GN tobacco is also a manufacturer of tobacco-free nicotine pouches, and "All White" products with just a minimum of tobacco. Production was established in August 2014. GN Tobacco Sweden AB second factory in Bispgården was rebuilt in 2014 for tube production with a capacity of 150m filter tubes per month. One of GN Tobacco's aims is to create freedom of choice for consumers. Choose tobacco products from our huge lineup of flavored favorites and find the ones that fit your taste profile, style, and individuality. GN Tobacco produces and distributes snus chewing tobacco, and nicotine pouches to more than 70 countries in the World. One of GN Tobacco's goals is to create freedom for consumers to choose tobacco products in a market that is otherwise characterized by ancient traditions and monopolistic thinking. GN Tobacco AB distributes chewing tobacco and snus in Sweden, Norway, Russia, US, Israel, South Africa, Switzerland, Norway, Czech Republic, Slovakia, Serbia and South Korea! GN Tobacco snus, including Siberia snus, is popular with more than a million users worldwide.
ODENS SNUS TYPES / FORMATS
There are really a lot to choose from the Odens snus assortment! Odens snus offers White portion snus, Portion Snus, Loose snus, Extreme portion snus, Extreme loose snus, White Dry slim and White Dry mini snus.
| | |
| --- | --- |
| Odens Loose | Odens Extreme Loose snus |
| Odens White portion snus | Odens Extreme white portion snus |
| Odens Portion Snus | Odens Extreme portion snus |
| Odens White Dry slim | Odens White Dry mini |
Fifty shades of Oden's snus ...
Odens snus is available in an unimaginable variety of flavors. Here you will find a guide to the flavors of Odens snus world.
MINT

Mint flavor - one of the most popular snus flavors nowadays. The taste of mint was one of the first flavors added to snus and is still at the top. Mint snus gives a pleasant coolness, sting and fresh breath. The Royal Snus Online offers a huge selection of Oden's mint snus - 17 types of Odens mint snus are here for you. At the forefront, of course, are Odens Mint Snus Kings - Oden's Cold Extreme White Dry and Oden's Double Mint Extreme White Dry Portion. Try and feel the power of mint!

Products form Odens snus with Mint flavor:

Odens Cold Extreme Loose, Odens Cold Extreme White Dry Mini, ODENS DOUBLE MINT, Odens Cold Extreme White Dry 16g, Oden's Double Mint Extreme White Dry Portion, Odens Cold Portion, Odens Cold Extreme White Dry Slim, Odens Double Mint Extreme White Dry Slim, Odens Double Mint Extreme Portion, Odens Cold Extra Strong Portion, Odens Double Mint Extreme White, Odens Menthol Extreme White Dry, Odens Cold Extreme Portion, Odens Double Mint Portion, Odens Cold Extreme White, Odens Cold White Portion, Odens Cold Extreme White Dry 500G

Wintergreen

Wintergreen flavor - snus with Wintergreen flavor is very popular in US. Wintergreen is a common flavoring in American products ranging from chewing gum, mints, and candies to smokeless tobacco such as dipping tobacco (American "dip" snuff) and snus.

Products form Odens snus with Wintergreen flavor:

Odens Creamy Wintergreen Extreme Portion, Odens Pure Wintergreen Extreme White Dry, Odens Pure Wintergreen Extreme Portion, Odens Wintergreen Extreme White Dry Slim

Liquorice

Liquorice flavor - Liquorice provides tobacco products with a natural sweetness and a distinctive flavour that blends readily with the natural and imitation flavouring components employed in the tobacco industry. Licorice is a very popular taste in Sweden and is often used in sweets.

Products form Odens snus with Liquorice flavor:

Odens Licorice Portion, Odens Licorice Extreme White Dry, Odens Licorice Extreme Portion

Lime

Lime flavor - The homeland of sour lime is Southeast Asia. It also grows in southern Europe, Mexico, Florida, California, Egypt. This tree loves heat, grows only in tropical areas. Sour lime fruit resembles a lemon in appearance and taste. They are yellow or greenish, very juicy and aromatic, with a thin skin. The flesh is greenish, very sour, with a strong odor.

Products form Odens snus with Lime flavor:

Odens Lime Extreme Portion, Odens Lime Portion, Odens Lime Extra Strong Portion

Cinnamon

Cinnamon flavor - Perfect choice to treat yourself and your friends in Christmas time. Cinnamon is actually dried bark of cinnamon branches, which is used as a spice due to its aroma. Cinnamon has a sweet aroma and a slightly pungent, bitter taste.

Products form Odens snus with Cinnamon flavor:

Vanilla

Vanilla flavor - Do you like sweets? Then Odens snus with Vanilla flavor is for you! It is not for nothing that vanilla has won the title of the most popular spice in the world. Vanilla is also the second most expensive spice in the world just after saffron, because its path to the store shelves is long and complicated. Vanilla pods are obtained from plants of the orchid family.

Products form Odens snus with Vanilla flavor:

Odens Vanilla Extreme Portion, Odens Vanilla Extreme White Dry

Menthol

Menthol flavor - Menthol is an organic, crystalline and volatile substance, one of the components of peppermint essential oil with a strong peppermint odor. It is widely used in cooking, cosmetics and perfumery. Menthol stimulates the skin's cold receptors, so we feel a fresh and pleasant cooling effect.

Products form Odens snus with Menthol flavor:

Melon

Melon flavor - Tastes like summer ... Melon is a well-known and popular plant of the pumpkin family, which we often include in our summer menu. Why not include melon-flavored snus in the summer snus menu?

Products form Odens snus with Melon flavor:

Cola

Cola flavor - created for true lovers of rich and sweet taste!

Products form Odens snus with Cola flavor:

Natural tobacco

Natural tobacco flavor - What could be better than a natural tobacco flavor. Simple and clear taste of pure tobacco.

Products form Odens snus with Natural Tobacco flavor:

Odens Original Extreme Loose, Odens 69 Extreme White Dry, Odens Extra Strong Loose, Odens No3 White, Odens No3 Extreme Portion, Odens Original Extreme Portion, Odens Extra Strong Portion, Odens Original Portion, Odens No3 Portion

Ginger

Ginger flavor - Want to spice it up? Add little bit of ginger to your snus menu. Ginger has been called the root of life since time immemorial. Its unique properties have been known for more than three and thirty years, but the aroma and taste of ginger are highly valued and even glorified.

Products form Odens snus with ginger flavor:
How to keep Odens snus fresh?
Store Odens snus in a dry, dark and cool place. Storing snus to maintain its quality is quite simple and doesn't require nothing special. The best place to store Odens snus is in the refrigerator. The refrigerator will provide coolness and even temperature. Storing snus in proper way will ensure that snus retains its strength, taste and aroma for longer without losing quality.
Pro tip! If you want to keep the snus for later use or have bought it in bulk and can't use it right away, you can store it in the freezer. Please keep in mind that in freezer you can store only snus, but not nicotine pouches.
My name is ODENS Snus, but people call me ...
The original and correct name of ODENS products are ODENS snus, but in each country there is different ways how they call them - ODENS nuuska, ODENS prill, ODENS prilla, ODENS nicopods, ODENS snuff, ODENS снюс, ODENS pouch, ODENS pouches, ODENS nicotine bags, ODENS nicotine pillows, ODENS chew bags, ODENS nico pods, ODENS chewing tobacco, ODENS chew, ODENS dip, ODENS dipping tobacco, ODENS snuss, ODENS السويدية snus, ODENS smokeless tobacco, ODENS bag under your lip, ODENS snus suédois, ODENS sachets de nicotine, ODENS Snus sueca, ODENS bolsas de nicotina and much more.
ODENS Swedish Snus is a premium brand of snus, a traditional Swedish tobacco product. Made with high-quality tobacco and natural ingredients, ODENS Swedish Snus offers a smooth and satisfying flavor that has made it a favorite among snus users in Sweden and around the world. With its convenient packaging and long-lasting flavor, ODENS Swedish Snus is the perfect choice for anyone looking to enjoy the unique taste of Swedish snus. Whether you're new to snus or a seasoned user, ODENS Swedish Snus is sure to provide a satisfying and enjoyable experience. So why not give it a try today and discover the authentic flavor of Sweden with ODENS Swedish Snus.
Looking for a convenient and hassle-free way to shop for the Odens Swedish snus products you love? Our website offers a range of benefits that make online shopping a smart choice. With a user-friendly interface, easy navigation, and a wide selection of products to choose from, you can find what you need quickly and easily. Our website also offers secure payment options and fast, reliable shipping, so you can receive your products quickly and safely.
We offer wide range of GN Tobacco snus and nicotine pouches products at www.TheRoyalSnus.com. Also feel free to check out other snus and nicotine pouches brands from smokeless tobacco world what you havn't tried yet from our selection.
AUDIO VERSION: