Buy ACE SUPERWHITE nicotine pouches (ACE SNUS) at The Royal Snus Online! ACE SUPERWHITE nicotine pouches is a new all white nicotine pouches brand from the manufacturer Ministry Of Snus. Ministry Of Snus are well known for products like RITE snus and RITE chew bags. ACE nicotine pouches comes in five different flavors with a high nicotine content of 18 mg /g. Also lately ACE nicotine pouches has launched 2 new products- ACE X SUPER WHITE COOL MINT SLIM ALL WHITE and ACE X SUPER WHITE COSMIC COOL MINT with a high nicotine kick and fresh flavors. ACE are one of the most popular pouches on market right now, give a try!


About Ace nicotine pouches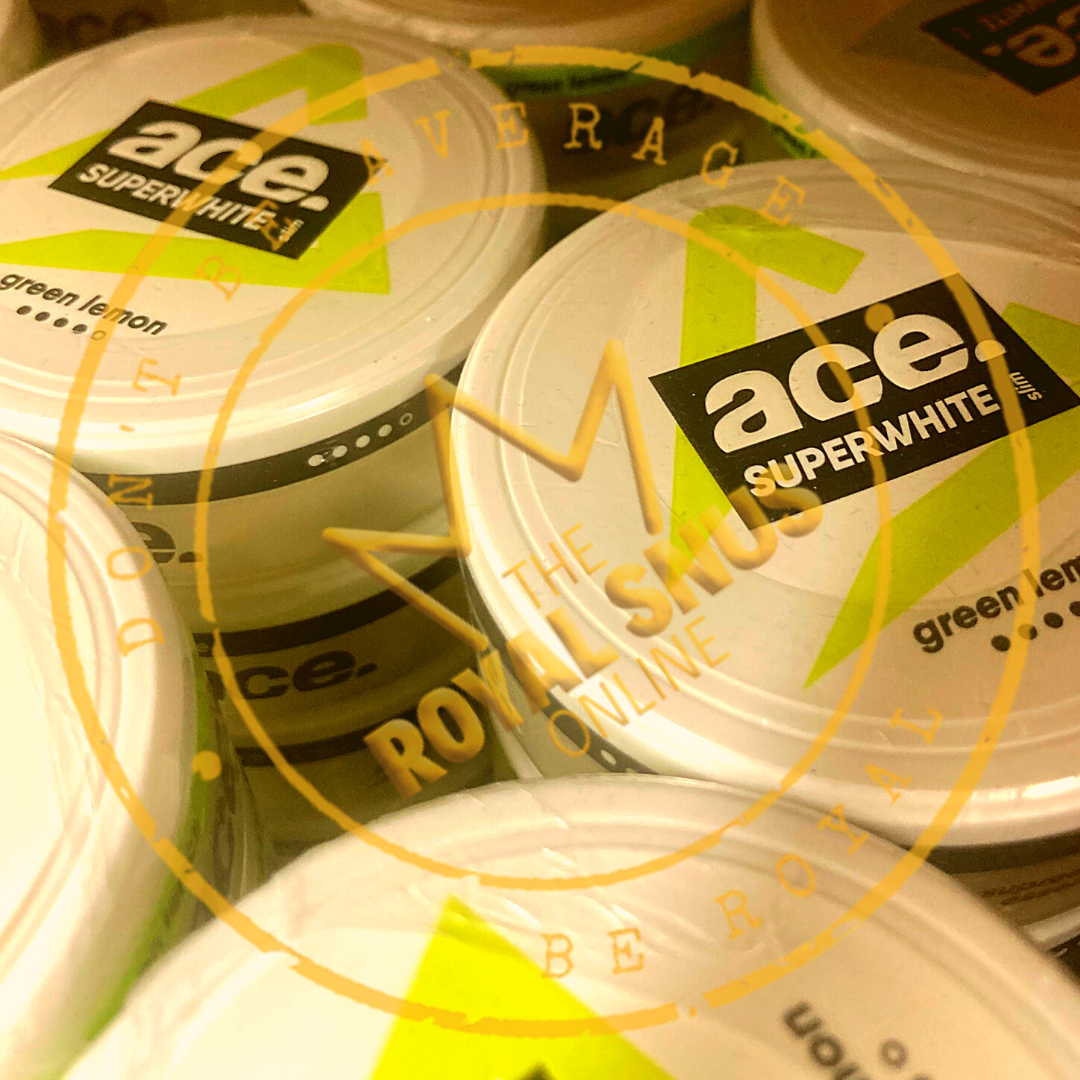 Never stand still. But be ready to stand our ground. Ace Superwhite is a product for the future, made with transparency and sincerity. Ace provides the familiar experience of traditional tobacco products, only completely tobacco free. Power. Taste. That's all. What we call: Supreme Essentials.
As Ministry Of Snus would say: 01- Pure; 02- Strong; 03- Essential. Ministry Of Snus are well known for products like RITE snus and ACE nicotine pouches. We offer wide range of "Ministry of Snus" snus and nicotine pouches products at www.TheRoyalSnus.com. Also feel free to check out other snus and nicotine pouches brands from smokeless tobacco world what you havn't tried yet from our selection. Ministry of Snus create authentic, flavourful solutions for the people.Ministry of Snus want to future-proof your tobacco. It is essential, it is simple – no excess fluff and fancy frills. Innovation and quality are the twin pillars of Ministry of Snus platform, and snus and chewing tobacco an integral part of the ministry's DNA. When developing, adapting and adjusting your favourite products, Ministry of Snus never waver from our uncompromising attitude to unsurpassed quality and unique flavours.
USE. REUSE. REPEAT. MINISTRY OF SNUS 100% RECYCABLE.
Ministry Of Snus believe that today sustainability should be inherent to whatever they do. All Ace cans are produced out of 100% recyclable plastic. Let's together make a difference by giving our waste cans a second life. To take environmental responsibility even further, Ace cans are produced locally in Denmark. It unfolds in a clean production, less transportation, protection of local communities – simply uncompromising quality all along the way.
Ace Superwhite exists to bring excitement and enjoyment to living on the edge – and supports having a healthy planet as our playground.
Why to buy Ace nicotine pouches?
SUPREME TASTE
Like a rollercoaster ride for your tastebuds. Pure and intense. Oral satisfaction made even more thrilling.
POWERFUL KICK
Show your adrenaline what adrenaline is! Ace Superwhite portions reach a 4 out of 5 rating on the strength indicator. So attention, they pack a punch.
NO COMPROMISE
Full power, full taste – and zero bullshit. That's what we call "Supreme Essentials".
My name is ACE nicotine pouches, but people call me ...
The original and correct name of ACE products are ACE nicotine pouches, but in each country there is different ways how they call them - ACE nuuska, ACE prill, ACE prilla, ACE nicopods, ACE snuff, ACE снюс, ACE pouch, ACE pouches, ACE nicotine bags, ACE nicotine pillows, ACE chew bags, ACE nico pods, ACE chewing tobacco, ACE chew, ACE dip, ACE dipping tobacco, ACE snuss, ACE السويدية snus, ACE smokeless tobacco, ACE bag under your lip, ACE snus suédois, ACE sachets de nicotine, ACE Snus sueca, ACE bolsas de nicotina and much more.
ACE tobacco free nicotine pouches are the perfect choice for anyone looking to enjoy the benefits of nicotine without the harmful effects of tobacco. These pouches provide a convenient and discreet way to get your nicotine fix, with a satisfying flavor and a sleek, stylish design. Made from high-quality, all-natural ingredients, ACE pouches are a healthier alternative to traditional cigarettes and other forms of smokeless tobacco. They come in a range of delicious flavors, including mint, wintergreen, and peach, so you can choose the one that suits your taste. Unlike traditional nicotine pouches, ACE pouches do not contain any tobacco, making them a safer option for those looking to reduce their tobacco intake or quit smoking altogether. They are also tobacco free, which means they can be used anywhere - even in places where smoking is prohibited. With their convenient packaging and satisfying flavor, ACE tobacco free nicotine pouches are the perfect choice for anyone looking to enjoy the benefits of nicotine without the harmful effects of tobacco. Try them today and experience the difference for yourself.
Looking for a convenient and hassle-free way to shop for the ACE nicotine pouches products you love? Our website offers a range of benefits that make online shopping a smart choice. With a user-friendly interface, easy navigation, and a wide selection of products to choose from, you can find what you need quickly and easily. Our website also offers secure payment options and fast, reliable shipping, so you can receive your products quickly and safely.