Buy LYFT premium nicotine pouches (LYFT SNUS) at The Royal Snus Online! BAT now launches LYFT as premium - the new generation LYFT. The premium Scandinavian LYFT designed box with flex lock and new logg. The best taste from LYFT series products are launched in two strengths. The highest quality Swedish nicotine pouches from LYFT with more content and 24 pouches per can what has been never seen on any of LYFT nicotine pouches before. What makes the new LYFT nicotine pouches can so unique? The new LYFT with FlexlockTM and 83% bio- based plastic box. The flex LockTM is an innovation that provides extra space in the lid to place the portion bags through a flexible and expandable membrane. The new LYFT premium series nicotine pouches consists of 6 products: BARISTA TWIST Regular & Mild- The mild taste of coffee with a nutty undertone. COOL AIR Regular & X-strong- A fresh experience of mint that gives you the feeling of Cool Air. JUST BLOOM Regular & Strong- Just Bloom combines elements of crunchiness and cider-like notes.

About LYFT nicotine pouches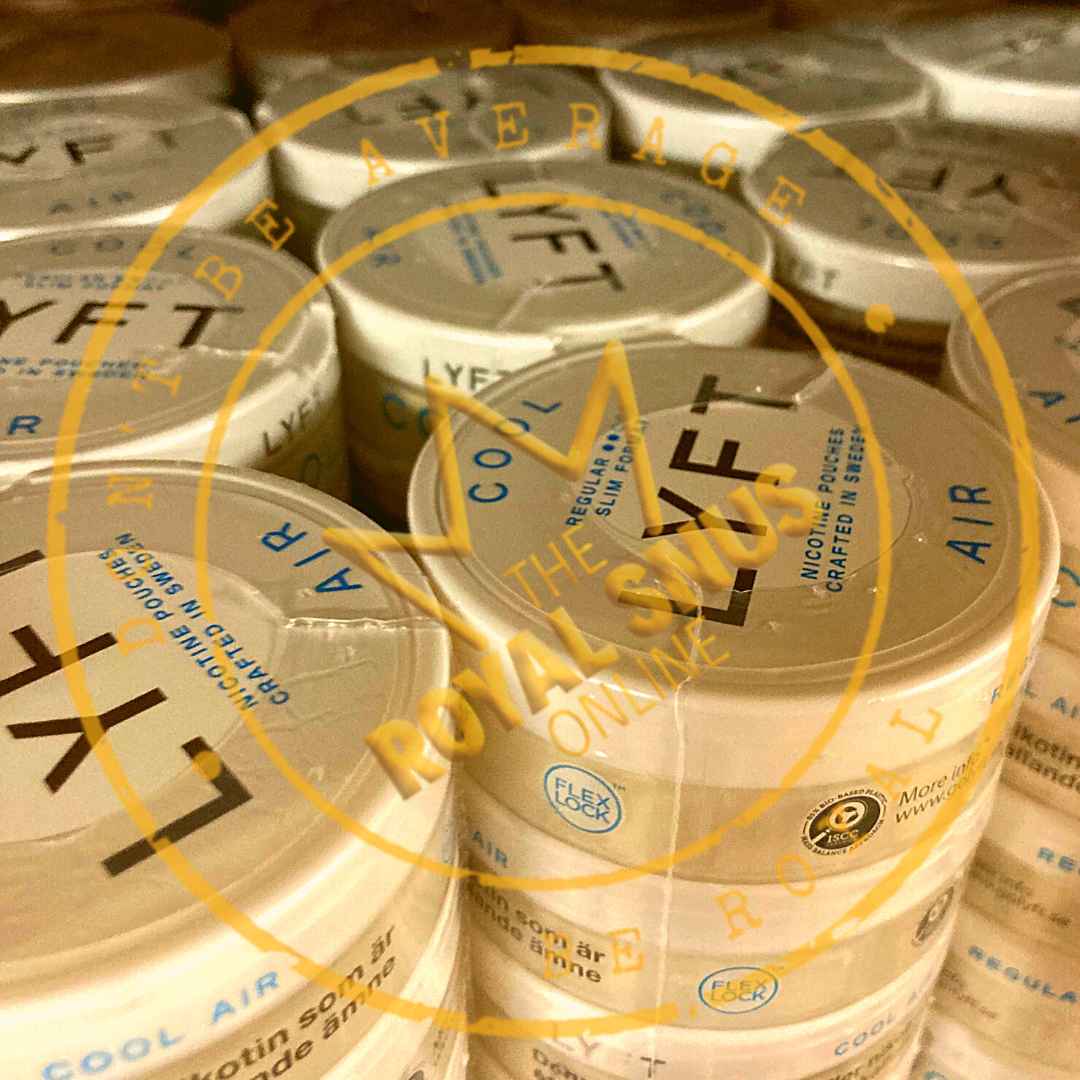 History of LYFT nicotine pouches evolution
LYFT brand has been out for a long time now and has been very popular product around the world. It all started in Sweden and nowadays it is the most pupular product in many countries in EU and world wide. LYFT nicotine pouches was previously known as EPOK snus- all white tobacco snus product. Some years after that it became as LYFT tobacco free nicotine pouches what made them lyft the limits and go global! EPOK are still available in some countries as for exaple- Norway where the "tobacco free nicotine pouches are banned" there EPOK continiues it's journey. Now all LYFT nicotine pouches has gone a step futher and the well known name LYFT has changed to VELO brand name in early 2022, but now shorlty after the VELO nicotine pouches brand launch they have created a new premioum quality LYFT nicotine pouches products what is beyond any standards and you wil be trilled by it's flavours and high quality products. LYFT premium quality nicotine pouches are manufactured by BAT (British American Tobacco). Lyft products are most well known for products like LYFT Ice Cool Mint and LYFT X- Freeze what is the most sold products by LYFT so far. Order all of LYFT nicotine pouches at The Royal Snus Online shop!
IS LYFT BACK?
As a first step to becoming more sustainable, LYFT as you recognize it has now become VELO. That is why LYFT have chosen to re-launch LYFT as a brand, with a focus on delivering a premium feeling - with roots in Scandinavian design. For all LYFT fans who want that little extra. LYFT provides a premium experience with Flex Lock ™ and contains 24 nicotine bags per can. The nicotine bags are all white, tobacco-free and come in the popular slim format, which fits perfectly under the upper lip.
Focus on simplicity and minimalism
In the next generation of LYFT, LYFT introduce cans made of 83% bio-based plastic, containing 24 pouches and with Flex Lock ™. Flex Lock ™ allows the storage part of your used pouches to expand and thus make room for more, so you do not have to empty it as often. LYFT has also got a new profile and logo, with a focus on simplicity and minimalism. In short, VELO is our global brand, while LYFT gets a Scandinavian feel, built on simplicity, high quality and design. 83% bio-based plastic is used in the production of the cans. An amount of bio-based material corresponding to 83% of this packaging was allocated to this product (mass balance).
Why are BAT relaunching LYFT?
VELO is the largest brand in Sweden (most bought by users and most sold cans) and now it's time for the next step - to launch globally. As the largest brand on the market, VELO has begun a journey to become more sustainable and wants to help even established and well-known brands to be aware of their environmental impact. LYFT will be Scandinavian and deliver a premium feel with high-quality products - from taste to design. LYFT want to give our users something extra, at a local level. A LIFT box contains 24 nicotine bags and has the flexible Flex Lock ™ solution to guarantee a first-class experience. A new packaging design that is more stripped down, but which gives an elegant expression. Nielsen Retail Audit Report, December 2021.
When and where will new LYFT become available?
LYFT will be available in Sweden, in selected stores in mid-April 2022. In May 2022, LYFT will expand to more stores and retailers. With this launch, LYFT want to give you an exclusive experience, with a focus on Scandinavian design and its origins.
WHAT IS DIFFERENT WITH NEW LYFTS?
There are a couple of things that are different from before: The new logo is more stripped down, with thinner fonts and a more airy feel that gives a confident and exclusive expression.
ENJOY THE BENEFITS OF THE NEW GENERATION LYFT.
My name is LYFT nicotine pouches, but people also call me ...
The original and correct name of LYFT products are LYFT nicotine pouches, but in each country there is different ways how they call them - LYFT nuuska, LYFT prill, LYFT prilla, LYFT nicopods, LYFT snuff, LYFT снюс, LYFT pouch, LYFT pouches, LYFT nicotine bags, LYFT nicotine pillows, LYFT chew bags, LYFT nico pods, LYFT chewing tobacco, LYFT chew, LYFT dip, LYFT dipping tobacco, LYFT snuss, LYFT السويدية snus, LYFT smokeless tobacco, LYFT bag under your lip, LYFT snus suédois, LYFT sachets de nicotine, LYFT Snus sueca, LYFT bolsas de nicotina and much more.
LYFT tobacco free nicotine pouches are the perfect choice for anyone looking to enjoy the benefits of nicotine without the harmful effects of tobacco. These pouches provide a convenient and discreet way to get your nicotine fix, with a satisfying flavor and a sleek, stylish design. Made from high-quality, all-natural ingredients, LYFT pouches are a healthier alternative to traditional cigarettes and other forms of smokeless tobacco. They come in a range of delicious flavors, including mint, wintergreen, and peach, so you can choose the one that suits your taste. Unlike traditional nicotine pouches, LYFT pouches do not contain any tobacco, making them a safer option for those looking to reduce their tobacco intake or quit smoking altogether. They are also tobacco free, which means they can be used anywhere - even in places where smoking is prohibited. With their convenient packaging and satisfying flavor, LYFT tobacco free nicotine pouches are the perfect choice for anyone looking to enjoy the benefits of nicotine without the harmful effects of tobacco. Try them today and experience the difference for yourself.
Looking for a convenient and hassle-free way to shop for the LYFT nicotine pouches products you love? Our website offers a range of benefits that make online shopping a smart choice. With a user-friendly interface, easy navigation, and a wide selection of products to choose from, you can find what you need quickly and easily. Our website also offers secure payment options and fast, reliable shipping, so you can receive your products quickly and safely.