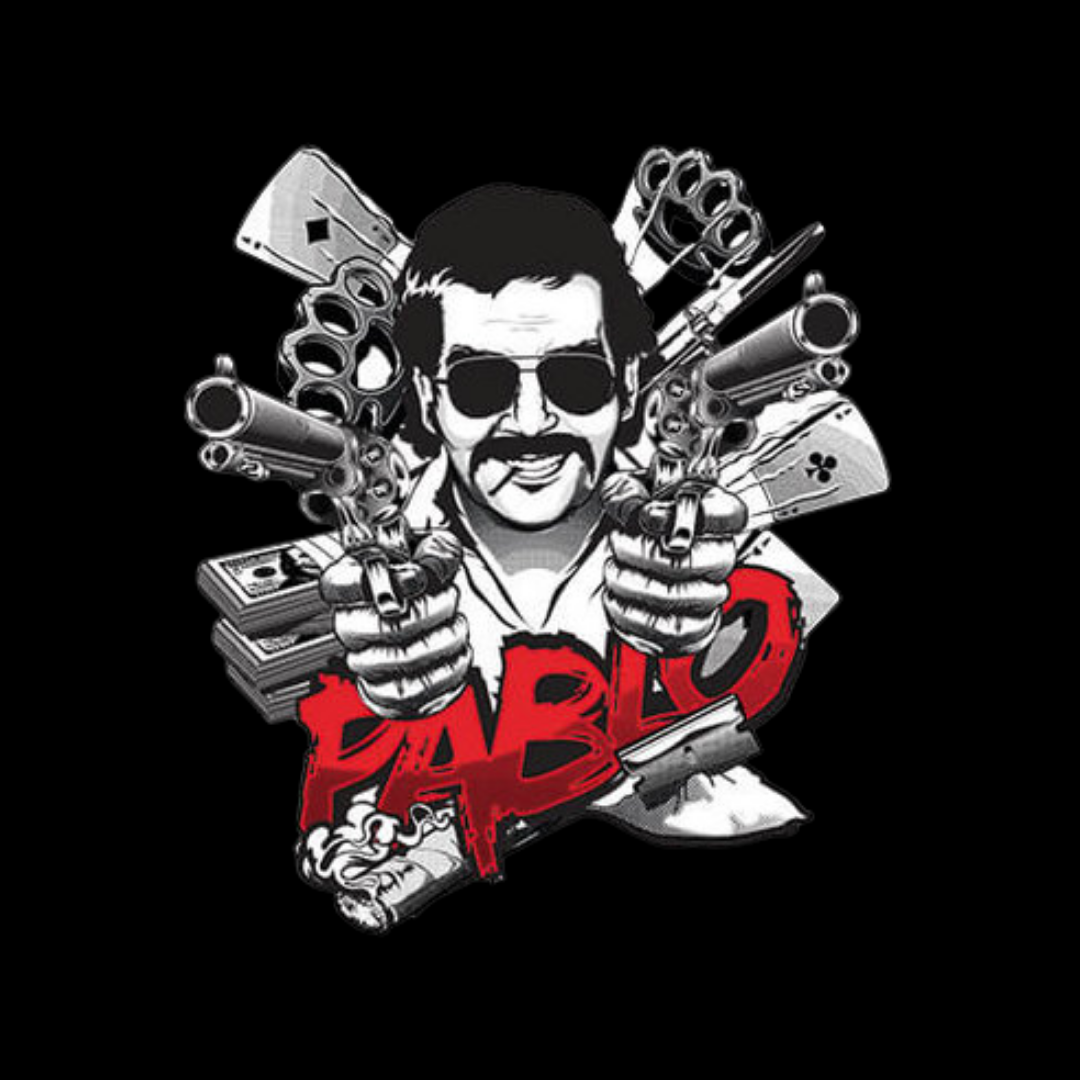 Buy Pablo nicotine pouches (PABLO NICOPODS) at The Royal Snus Online! Pablo Nicotine Pouches (Pablo snus). Pablo is the good- old, danger strong boy that's been out there since the very beginning. No one plays games with Pablo. Known for it's extra high nicotine levels with the fastest nicotine absorption, PABLO has been created for true nicotine lovers. It is from the same manufacturer as well known KILLA nicotine pouches (KILLA SNUS).

ABOUT PABLO NICOTINE POUCHES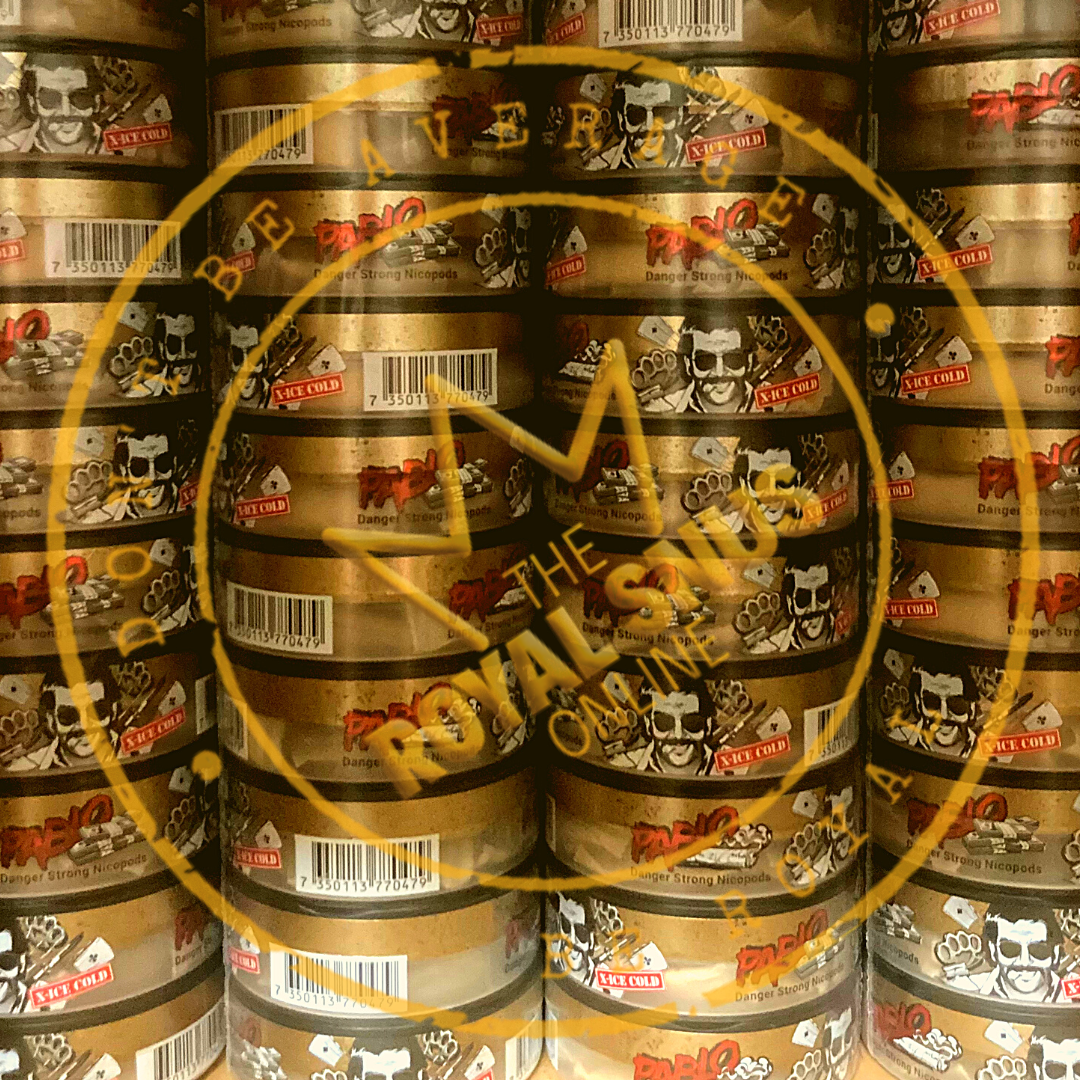 Pablo nicotine pouches are inspired by the image of the famous mafia boss Pablo Escobar. The cans of Pablo nicotine pouches depict a gangster with guns. It's a powerful design! Not only is its design strong, but the product itself is, in the words of the manufacturer, Danger strong! Pablo nicotine pouches come in three variations - Pablo Red Super Strong Slim All White, Pablo X-Ice Cold Super Strong Slim All White and Pablo Ice Cold Super Strong Slim All White.
Pablo nicotine pouches are for advanced users who like extremely strong nicotine pouches.
pablo nicotine pouches contain 16g of nicotine. Pablo nicotine bags contain cellulose, PH-adjustment, humectant, nicotine, aroma, water and preservative.
Often Pablo nicopods are called Pablo snus, but this product is not snus because it does not contain tobacco.
Pablo nicotine pouches are a type of smokeless tobacco product that originated in Denmark. The pouches are small, discreet packets that contain a mixture of tobacco, flavorings, and nicotine. They are placed under the user's lip and allowed to release their contents slowly over time, providing a discreet and convenient way to consume nicotine.
Pablo nicotine pouches are available in a range of flavors, including mint and tobacco. They are also available in different nicotine strengths, allowing users to choose the level of nicotine that best suits their needs.
One of the key advantages of Pablo nicotine pouches is that they do not produce any smoke or second-hand smoke, making them a more socially acceptable alternative to traditional tobacco products. They are also easy to use and do not require any special equipment or preparation, making them convenient for use in a variety of settings.
Overall, Pablo nicotine pouches are a popular and effective way to consume nicotine without the negative effects of smoking. They are an excellent alternative for people who want to enjoy the effects of nicotine without the associated health risks or social stigma.
Buy Pablo nicotine pouches at The Royal Snus Online
We offer wide range of Swedish snus and nicotine pouches products at www.TheRoyalSnus.com. Also feel free to check out other snus and nicotine pouches brands from smokeless tobacco world what you havn't tried yet from our selection.
My name is Pablo nicotine pouches, but people call me ...
The original and correct name of Pablo products are Pablo nico pods or Pablo nicotine pouches, but in each country there are different ways how they call them - Pablo nuuska, Pablo prill, Pablo prilla, Pablo nicopods, Pablo snuff, Pablo снюс, Pablo pouch , Pablo pouches, Pablo nicotine bags, Pablo nicotine pillows, Pablo chew bags, Pablo chewing tobacco, Pablo chew, Pablo dip, Pablo dipping tobacco, Pablo snuss, Pablo smokeless tobacco, Pablo bag under your lip, Pablo snus suédois , Pablo sachets de nicotine, Pablo Snus sueca, Pablo bolsas de nicotina and much more.
PABLO tobacco free nicotine pouches are the perfect choice for anyone looking to enjoy the benefits of nicotine without the harmful effects of tobacco. These pouches provide a convenient and discreet way to get your nicotine fix, with a satisfying flavor and a sleek, stylish design. Made from high-quality, all-natural ingredients, PABLO pouches are a healthier alternative to traditional cigarettes and other forms of smokeless tobacco. They come in a range of delicious flavors, including mint, wintergreen, and peach, so you can choose the one that suits your taste. Unlike traditional nicotine pouches, PABLO pouches do not contain any tobacco, making them a safer option for those looking to reduce their tobacco intake or quit smoking altogether. They are also tobacco free, which means they can be used anywhere - even in places where smoking is prohibited. With their convenient packaging and satisfying flavor, PABLO tobacco free nicotine pouches are the perfect choice for anyone looking to enjoy the benefits of nicotine without the harmful effects of tobacco. Try them today and experience the difference for yourself.
Looking for a convenient and hassle-free way to shop for the PABLO nicotine pouches products you love? Our website offers a range of benefits that make online shopping a smart choice. With a user-friendly interface, easy navigation, and a wide selection of products to choose from, you can find what you need quickly and easily. Our website also offers secure payment options and fast, reliable shipping, so you can receive your products quickly and safely.