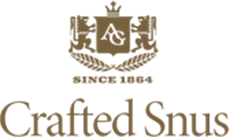 Crafted Snus is a collaboration between AG Snus and master blender Conny Andersson. With the common interest in craftsmanship and tobacco of the highest quality, Crafted Snus has only been spiced up with flavorful pipe and cigar tobacco. To add an extra dimension to this snus, tobacco is stored in whiskey barrels.
AG Snus are also well known for products like SISU snus and SIRIUS nicotine pouches, Crafted Snus Whisky, SHIRO nicotine pouches and KAPTEN snus.
We offer wide range of AG Snus snus and nicotine pouches products at www.TheRoyalSnus.com. Also feel free to check out other snus and nicotine pouches brands from smokeless tobacco world what you havn't tried yet from our selection. Buy CRAFTED snus at The Royal Snus Online!