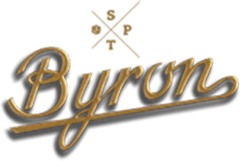 In the 19th century, the very first Byron factory was opened by Cuban cigar makers, and cousins, Jose and Eusebio. Now the same cigar tradition is packaged in snus format as BYRON SNUS. Snus from Byron have elements of bergamot and tobacco and thus create a classic Swedish snus flavor. The snus is available in four different versions. These are: Byron White, Byron Portion, Byron Anis Portion and Byron Señorita Portion. BYRON manufacturer is GN Tobacco.
GN Tobacco are also well known for products like Siberia snus, Odens snus, Olde Ving snus, White Fox nicotine pouches, Byron snus, Bull Dog nicotine pouches, Lenny snus, Anglaholm snus, Islay Whiskey snus, Taboca snus and more.
We offer wide range of GN Tobacco snus and nicotine pouches products at www.TheRoyalSnus.com. Also feel free to check out other snus and nicotine pouches brands from smokeless tobacco world what you havn't tried yet from our selection. Buy BYRON snus at The Royal Snus Online!