Buy ICE nicotine pouches (ICE SNUS) at The Royal Snus Online! ICE nicotine pouches are manufactured by Nicopods ehf. and it is Icelands first and only nicotine pouch manufacturer so far. ICE- developed by an ambitious team focused on creating a superior product from high quality ingredients that enables every valued customer to decrease or quit using harmful tobacco products with a less damaging nicotine substitute. They are enthusiastic about our craft and are continually improving and developing our products to satisfy our customers.

ABOUT ICE NICOTINE POUCHES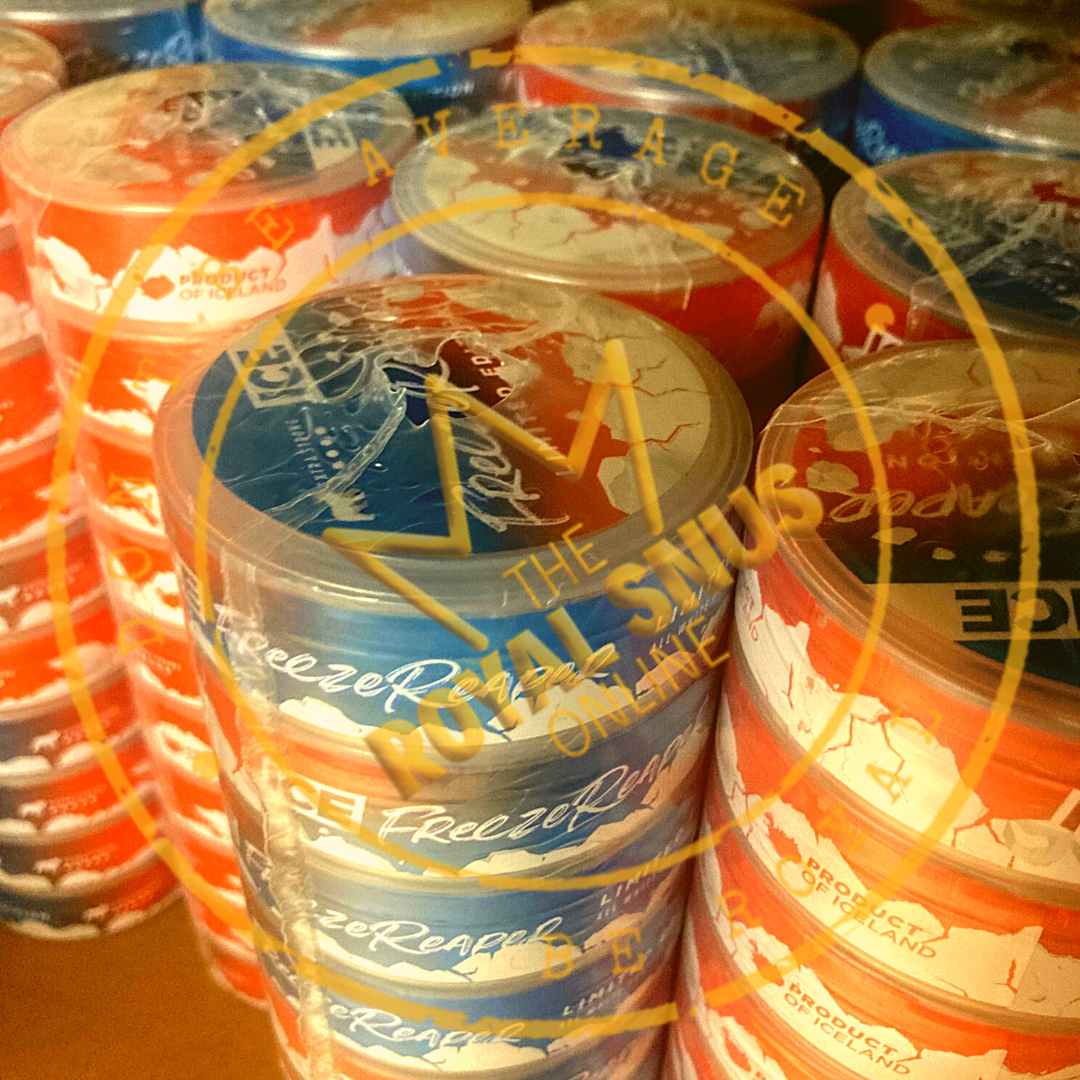 What are ICE nicotine pouches (Nicopods)?
Nicotine pouches are a novel nicotine delivery system to replace tobacco or vape products for persons that have reached 18 years of age.
Why ICE nicotine pouches?
Nicotine pouches are a less harmful nicotine delivery system meant to provide nicotine users with a safer alternative then smoking or using other tobacco products. ICE nicotine pouches do not stain teeth and are simple and clean to use.
How do you use ICE nicotine pouches?
The pouch is placed under your upper lip and it's advised to leave them in for approximately 30 minutes to maximise absorption. After use please dispose of pouch in a bin or you can use the top lid on the can for storage or later disposal. It's recommended not to exceed 100 mg of nicotine per day.
How much nicotine do ICE nicotine pouches contain?
ICE offer nicotine pouches in three different concentrations.
2 point pouches contain 8 mg/g
4 point pouches contain 18 mg/g
5 point pouches contain 24 mg/g
ICE nicotine pouches flavors
ICE nicotine pouches are available in a variety of flavours to suit each and every users personal preference. ICE are constantly developing new flavours.
My name is ICE nicotine pouches, but people also call me ...
The original and correct name of ICE products are ICE nicotine pouches, but in each country there is different ways how they call them - ICE nuuska, ICE prill, ICE prilla, ICE nicopods, ICE snuff, ICE снюс, ICE pouch, ICE pouches, ICE nicotine bags, ICE nicotine pillows, ICE chew bags, ICE nico pods, ICE chewing tobacco, ICE chew, ICE dip, ICE dipping tobacco, ICE snuss, ICE السويدية snus, ICE smokeless tobacco, ICE bag under your lip, ICE snus suédois, ICE sachets de nicotine, ICE Snus sueca, ICE bolsas de nicotina and much more. Order all of ICE nicotine pouches at The Royal Snus Online shop!
ICE tobacco free nicotine pouches are the perfect choice for anyone looking to enjoy the benefits of nicotine without the harmful effects of tobacco. These pouches provide a convenient and discreet way to get your nicotine fix, with a satisfying flavor and a sleek, stylish design. Made from high-quality, all-natural ingredients, ICE pouches are a healthier alternative to traditional cigarettes and other forms of smokeless tobacco. They come in a range of delicious flavors, including mint, wintergreen, and peach, so you can choose the one that suits your taste. Unlike traditional nicotine pouches, ICE pouches do not contain any tobacco, making them a safer option for those looking to reduce their tobacco intake or quit smoking altogether. They are also tobacco free, which means they can be used anywhere - even in places where smoking is prohibited. With their convenient packaging and satisfying flavor, ICE tobacco free nicotine pouches are the perfect choice for anyone looking to enjoy the benefits of nicotine without the harmful effects of tobacco. Try them today and experience the difference for yourself.
Looking for a convenient and hassle-free way to shop for the ICE nicotine pouches products you love? Our website offers a range of benefits that make online shopping a smart choice. With a user-friendly interface, easy navigation, and a wide selection of products to choose from, you can find what you need quickly and easily. Our website also offers secure payment options and fast, reliable shipping, so you can receive your products quickly and safely.