Buy SWAVE nicotine pouches (SWAVE SNUS) at The Royal Snus Online! New product- nicotine pouches from Gotlandssnus- SWAVE. Swave has a clear taste of exotic flavours. An elongated all- white nicotine pouches with optimized fit that is dry on the surface with moist content for low drip and a lasting taste release. Gotlandssnus are also well known for products like Jakobssons snus and SWAVE nicotine pouches, WISBY snus and QVITT nicotine free snus.

Take it Swave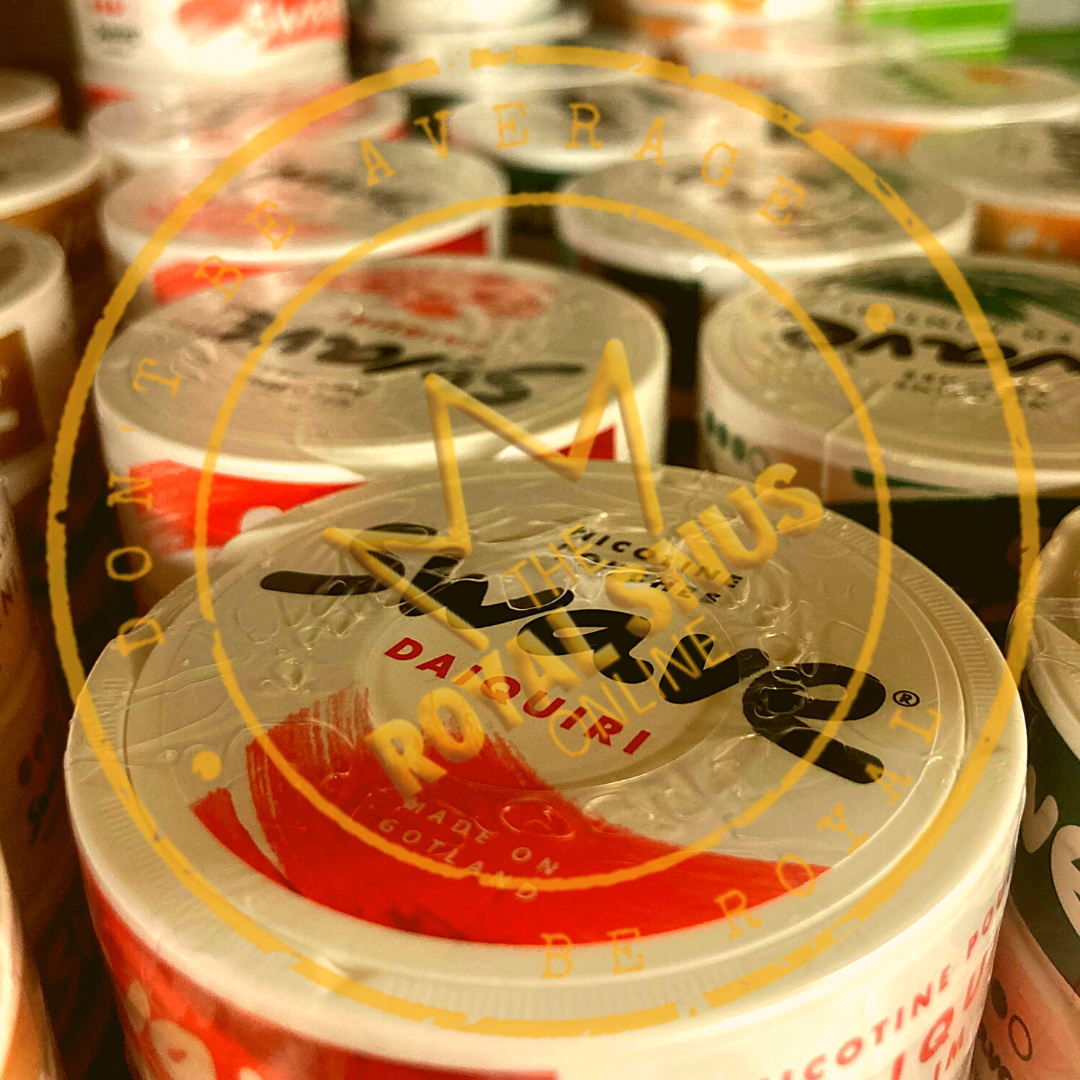 Is it when you miss the bus but do not care because the audiobook has just become exciting?
Or to have sun in mind even when the rain is beating against the window? For SWAVE, it's when the usual Tuesday feels like a Friday. The feeling that everything is in order. That's when nothing can go wrong right now and you can sit back and take it Swave.
Swave Cuba Libre Mini
When cinnamon and vanilla citrus get a toss of rum and all of a sudden you have zero things to grab, the sun is shining and you have a thirst quencher in hand. That feeling, you can carry it around in your pocket, it's a mini vacation on a can.

Swave Green Mintini
Taste of fresh Wintergreen with a cooling feeling of mint invites to a fresh Friday vibe. A characteristic taste like Green Mintini is simply a bit of a Friday feeling on the can.
Swave Daiquiri Mini
Swave Daiquiri Mini
Daiquiri in mini format with a minimum amount of nicotine. The clear taste of melon and a toss of pears add that little extra in everyday life. The feeling that things are on the right track - ambition on the can.

Swave Red Surfer
Now there is no end date for the holiday taste, the popular Factory Batch is here to stay. Surf through the full-bodied taste of sour berries with hints of citrus and aftertaste of vanilla. Red Surfer is pleasure captured on can.

Swave Cafetini
A coffee on it. Cafetini is uncomplicatedly good with full-bodied flavors of coffee and a ton of caramelized syrup. For moments when you just want to sit back and pick up inspiration on the can.

Swave Tropic Spritz
A summer-fresh, clear taste of pineapple spiced with the sun's rays. Welcome warmth that awakens summer ambition on the rainiest days.

Swave Cuba Libre
It is no coincidence that Cuba Libre is poppis. With cinnamon, vanilla and hints of citrus spiced with rum, the taste puts the finishing touches on most days. We call it daydreams on a can.

Swave Daiquiri
With a clear taste of melon and a small hint of pear, it's like opening the can and breathing in pool hangs. It's real life enjoyment on the can.
All General SWAVE nicotine pouches products meets GOTHIATEK® quality standards. What is GOTHIATEK® quality standards?
Swedish Match is the only snus company in the world to guarantee its consumers that each snus can meets the GOTHIATEK® requirements. By GOTHIATEK®, Swedish Match impose stricter requirements on the content of the company's products than both the Swedish food regulation and the recommendations of the World Health Organization (WHO) Study Group on Tobacco Product Regulation (TobReg) do regarding the maximum amounts of undesirable compounds in smokeless tobacco products. GOTHIATEK® entails that Swedish Match imposes demands on the ingredients used and thus works only with selected types of tobacco and selected growers. The soil must be given the right conditions in order for the crops to attain the right quality. The tobacco needs to be treated with the greatest care even after it has been harvested. Swedish Match follows an extremely detailed production process, with each stage monitored and analyzed, to guarantee that the company supplies the best and safest snus in the world to its customers.Swedish Match believes that consumers and the public have a right to know what the company knows about snus. Accordingly, Swedish Match communicates and provides information about GOTHIATEK® and the company's products and their contents. Swedish Match are proud of what they have accomplished, but they strive towards products with even higher quality and even lower undesirable substances. Swedish Match continue to develop GOTHIATEK® in pace with new findings, innovations and technological achievements.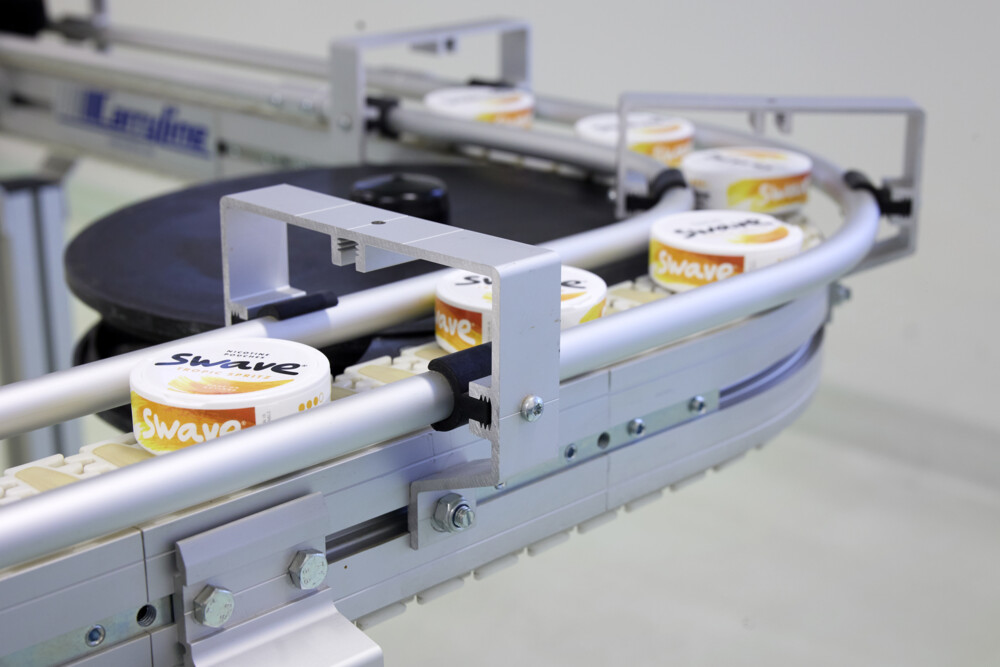 My name is SWAVE nicotine pouches, but people also call me ...
The original and correct name of SWAVE products are SWAVE nicotine pouches, but in each country there is different ways how they call them - SWAVE nuuska, SWAVE prill, SWAVE prilla, SWAVE nicopods, SWAVE snuff, SWAVE снюс, SWAVE pouch, SWAVE pouches, SWAVE nicotine bags, SWAVE nicotine pillows, SWAVE chew bags, SWAVE nico pods, SWAVE chewing tobacco, SWAVE chew, SWAVE dip, SWAVE dipping tobacco, SWAVE snuss, SWAVE السويدية snus, SWAVE smokeless tobacco, SWAVE bag under your lip, SWAVE snus suédois, v sachets de nicotine, SWAVE Snus sueca, SWAVE bolsas de nicotina and much more. Order all of SWAVE nicotine pouches at The Royal Snus Online shop!
SWAVE tobacco free nicotine pouches are the perfect choice for anyone looking to enjoy the benefits of nicotine without the harmful effects of tobacco. These pouches provide a convenient and discreet way to get your nicotine fix, with a satisfying flavor and a sleek, stylish design. Made from high-quality, all-natural ingredients, SWAVE pouches are a healthier alternative to traditional cigarettes and other forms of smokeless tobacco. They come in a range of delicious flavors, including mint, wintergreen, and peach, so you can choose the one that suits your taste. Unlike traditional nicotine pouches, SWAVE pouches do not contain any tobacco, making them a safer option for those looking to reduce their tobacco intake or quit smoking altogether. They are also tobacco free, which means they can be used anywhere - even in places where smoking is prohibited. With their convenient packaging and satisfying flavor, SWAVE tobacco free nicotine pouches are the perfect choice for anyone looking to enjoy the benefits of nicotine without the harmful effects of tobacco. Try them today and experience the difference for yourself.
Looking for a convenient and hassle-free way to shop for the SWAVE nicotine pouches products you love? Our website offers a range of benefits that make online shopping a smart choice. With a user-friendly interface, easy navigation, and a wide selection of products to choose from, you can find what you need quickly and easily. Our website also offers secure payment options and fast, reliable shipping, so you can receive your products quickly and safely.