Buy GENERAL snus at The Royal Snus Online! General snus, previously called - Generalsnus is produced by Swedish Match and is one of the oldest leading and well known brands on Swedish market. General snus is one of Sweden's greatest titles with long and traditional ancestry. General snus is made on a mixture of over 20 different types of tobacco supplemented with bergamot oil. General snus is available in all kinds of forms; Loose, Portion, Mini, White. It is available in many variations, flavors and strengths. Swedish Match are also well known for products like Kaliber snus, ONE snus, ONYX snus, ZYN nicotine pouches, THE LAB snus, XR nicotine pouches, MUSTANG snus, XRANGE snus, Göteborgs Rapé snus, Tre Ankare snus, General snus, G.3 snus, G.4 snus, ETTAN snus, Nick & Johnny snus, KRONAN snus, CATCH snus and more.
ABOUT GENERAL SNUS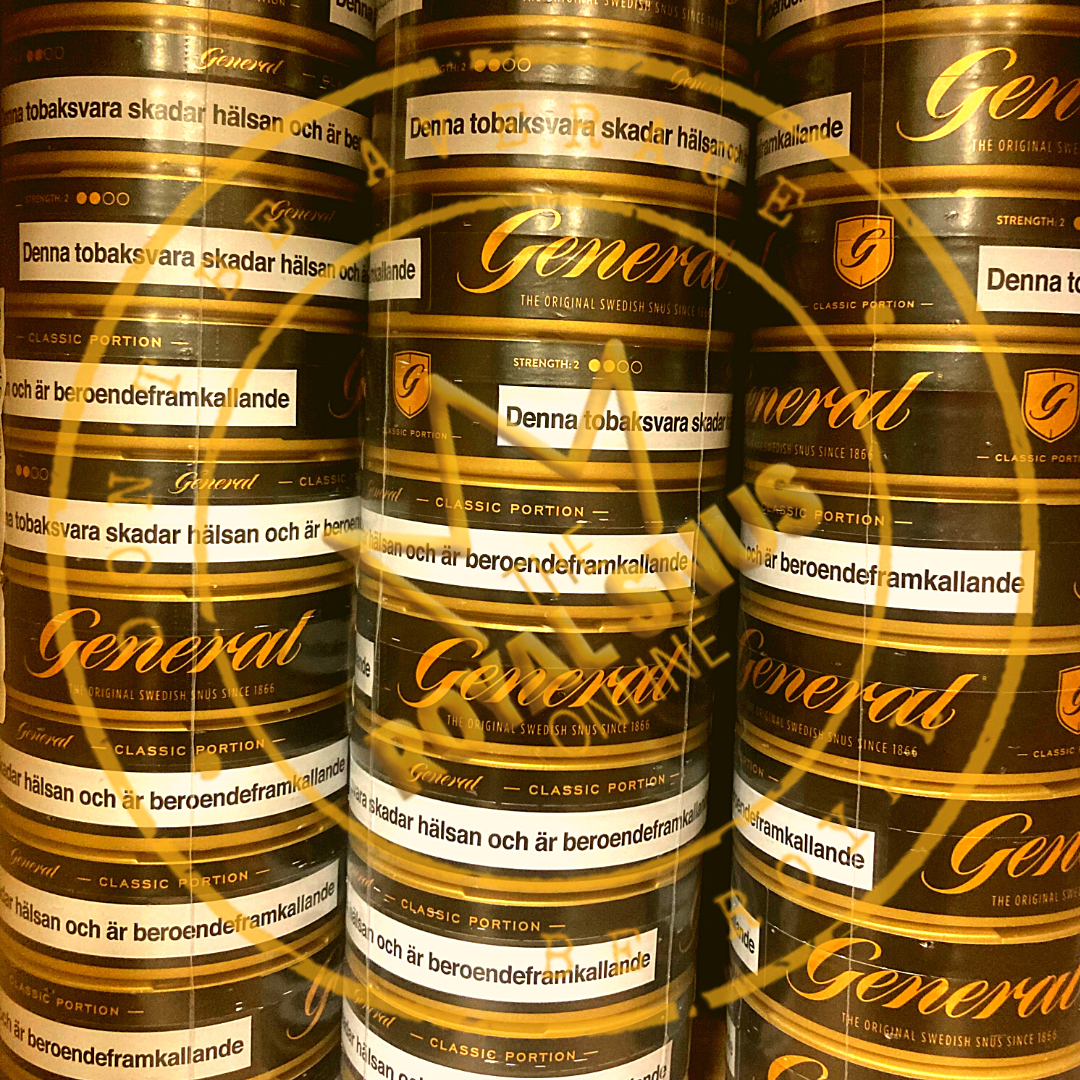 General was launched in 1866, but you could say the story began four years earlier. The snus manufacturer Johan A Boman wanted to produce the "perfect snus" and his research took four years. He traveled all over the world in his quest to find the best tobacco leaves, and began experimenting with different blends. The final result was a blend of 22 different tobacco varieties, mixed with one drop of bergamot oil.
GENERAL SNUS FLAVOR
General's tobacco blend with notes of tea, hay and leather, creates a snus with an underlying spiced tobacco flavor. A drop of bergamot oil, a citrus fruit that mainly grows in Italy and northern Africa, gives General its signature flavor. According to Boman's instructions, only the finest parts of the tobacco plant are used, the stalk is avoided, and the tobacco is left to dry naturally in the sun.
GENERAL SNUS DEVELOPMENT
Still today, only a few people know about Boman's original recipe from 1866. We have developed new products with a deep respect for this legacy, and a wide range of General products are available in both Sweden and other countries. One interpretation is G.3 – a stronger snus in a slimmer pouch, designed to offer less drip and fit perfectly under the lip. If you prefer an explicit whisky-flavored snus, why not try General Mackmyra - flavored with Mackmyra's Swedish malt whisky "Svensk Ek".
GENERAL SNUS HISTORY
In 1866, JA Boman's Generalsnus saw the light of day. It was a success that lasted for over 150 years. But who was he really the creator of Generalsnuset, JA Boman? Johan Adolf Boman was born in 1821 in Strömstad and is the son of Beata Barbara and Johannes Boman. The father is a sea captain and died in 1834 in a ship accident. The family is hard hit and at the age of 21 JA Boman moves to Gothenburg.
In 1851 Johan Adolf married the one year older Gustafva Amanda d´Orchimont in Uddevalla. Gustava Amanda comes from a French noble family and was born in Strömstad. At this time, he is already established as a wholesaler in Gothenburg. Together they have the children Axel, Herman and Gustaf. They have four more children who do not survive to adulthood.
1849 Boman becomes a partner in the tobacco company Ferd. Körner, formerly owned by the sales clerk Jacob Ferdinand Körner. His title would then be changed to tobacco manufacturer. Körner & Co was originally an import company that traded in coffee and cotton.
1854 the company changes its name to Körner & Boman. In 1857, the company's office was located at Smedjegatan 5 in Gothenburg, so that on April 1 of the same year, they moved to Östra Hamngatan 14, which already housed the factory.
In 1861, Boman took over the company under its own auspices under the name JA Boman & Co and five years later launched Generalsnus, which would prove to be a very popular and long-lasting snus brand. It is said that Boman was obsessed with creating the best snus market the market had ever seen and experienced. General is becoming a bestseller and immensely popular among 19th century snus consumers.
From the end of the 19th century, the focus was entirely on snus and eventually became Gothenburg's third largest snus factory and now Boman's youngest son Gustaf Boman is also included in the company. In addition to General, the company manufactures other popular snus brands such as Götha Vapen, Ögonsnus, Grofsigt and Patent Rapé.
In 1915, the Tobacco Monopoly redeemed the factory together with a large number of other snus factories. However, the General brand remains and is now manufactured under the auspices of the Tobacco Monopoly and remains in the sales range even when the tobacco monopoly ends in 1965.
GENERAL SNUS PORTION SNUS SIZES and types
| | |
| --- | --- |
| SLIM | The Slim portion is large in size, but slimmer for a more comfortable fit under the lip. The portion delivers a long-lasting flavor release and less runniness than the Large portions from Swedish Match. A Slim portion contains between 0.7 and 0.9 grams of snus. |
| ORIGINAL PORTION | The demand for snus in ready-packaged portions arose in the 1970s, leading to the development of Original Portion. During manufacturing, the tobacco is packed in pouches and is then moistened. Original portions have a moist surface, dark color and - like loose snus - delivers an instant flavor- and nicotine release. Original Portion is often referred to as just "portion snus". |
| WHITE PORTION | In 1998, Swedish Match launched the White Portion snus. As opposed to Original Portion, the pouch is not moistened during manufacturing and therefore offers less drip. White Portions are also made mostly of tobacco, but are drier on the surface for low salivation and a longer lasting nicotine- and flavor release, compared with standard portion snus. |
| LOOSE SNUS | Loose snus looks the same today as it did 200 years ago and is still the foundation of the Swedish snus tradition. Users form the snus in to a portion with their hands to a preferred size and shape, giving an instant and intense flavor release under the lip. Loose snus is most often made of grounded tobacco and is divided into three varieties: coarse, medium and fine grind. |
| MINI | Mini is the smallest format, designed for users who prefer a small, discreet pouch that is not visible under the lip. Each portion contains between about 0.3 and 0.5 grams of snus, depending on the brand and product. |
HOW GENERAL SNUS PORTION IS MANUFACTURED?
1. STEP - GRINDING
Grinding is the first step in GENERAL Snus production. This is done is various ways, depending on which properties we want to bring out in the tobacco. Each ground tobacco blend is stored in a separate silo. Samples from each tobacco blend are taken and sent to our laboratory for analysis.
2. STEP - PREPARATION
Preparation begins when the flour blend is ready. The process starts by weighing the ground tobacco blend, which is then transported to blenders. Water and salt are added while the mixture is stirred. Salt is added for taste, but also for its preservative properties. The tobacco is then heated in a process similar to pasteurization in order to neutralize microorganisms, make the snus more long lasting and enhance the aroma and flavor. Following the heating process, the snus is cooled, after which other ingredients are added. Samples are taken for quality control purposes. If all the measurements are approved, the batch is ready for packaging. The process is a completely closed system and the quality control is rigorous.
3. STEP - Packaging
If all the measurements are approved, the batch is ready for the third stage – GENERAL Snus packaging. Obviously, portion snus must first be packed in portion pouches while loose snus is filled directly in the can.
Packaging portion snus requires more advanced equipment. The portions are measured and inserted into a cellulose fiber tube – the same type used for tea bags – and then sealed and cut apart. Finished portion pouches are packed in a plastic can and sealed with a lid. After sealing, the cans are weighed and labeled. They are then stacked in rolls that are wrapped in plastic and packed in boxes.
All ready-packaged snus is stored in cold storage for a few days before being shipped out from the factory. Cold storage is important for allowing the snus to mature and acquire its characteristic aroma and flavor.
POPULAR PRODUCTS BY GENERAL SNUS
GENERAL CLASSIC PORTION
General Classic Portion - has a spicy tobacco taste with notes of bergamot and hints of tea, hay and leather. General Classic Portion has a full sized pouch that is moist on the surface for a quick and strong flavor release. General Portion is good and traditional snus from Swedish Match.
GENERAL EXTRA STRONG
General Extra Strong Portion, it has the classic General flavor and a full bodied tobacco character. This snus has a full sized pouch that is moist on the surface for a quick and strong flavor release. General Extra Strong is good and traditional snus from Swedish Match.
GENERAL WHITE
General White, it has a spicy tobacco taste with notes of bergamot and hints of tea, hay, and leather. This snus has a full sized pouch that is dry on the surface with a moist content for low salivation and a lasting flavor release. General White is good and traditional snus from Swedish Match.
GENERAL MACKMYRA
General Mackmyra was developed in collaboration with Swedish whiskey distillery Mackmyra, located in Gävle, Sweden. General Mackmyra is a tobacco tasting snus inspired by the flavors of both General and Mackmyra. General Mackmyra has a dark tobacco taste with notes of dried fruits, cedar, and Mackmyra Swedish Oak Whisky along with hints of tar and malt.
GENERAL CLASSIC MINI PORTION
General Classic Mini Portion - a spicy tobacco taste with pronounced notes of bergamot and hints of hay and green grass. General Classic Mini Portion snus is served in mini portions.
GENERAL LOOSE
General Loose - the classic General loose snus from 1866. General Loose has a spicy tobacco taste with notes of bergamot and hints of tea, hay and leather. General Loose is a moist loose snus of grounded tobacco.
GENERAL EXTRA STRONG LOOSE
General Extra Strong Loose - a heavy and spicy tobacco taste with notes of bergamot and hints of tea, hay and leather. General Extra Strong Loose is a moist loose snus of grounded tobacco.
All General Snus products meets GOTHIATEK® quality standards. What is GOTHIATEK® quality standards?
Swedish Match is the only snus company in the world to guarantee its consumers that each snus can meets the GOTHIATEK® requirements. By GOTHIATEK®, Swedish Match impose stricter requirements on the content of the company's products than both the Swedish food regulation and the recommendations of the World Health Organization (WHO) Study Group on Tobacco Product Regulation (TobReg) do regarding the maximum amounts of undesirable compounds in smokeless tobacco products. GOTHIATEK® entails that Swedish Match imposes demands on the ingredients used and thus works only with selected types of tobacco and selected growers. The soil must be given the right conditions in order for the crops to attain the right quality. The tobacco needs to be treated with the greatest care even after it has been harvested. Swedish Match follows an extremely detailed production process, with each stage monitored and analyzed, to guarantee that the company supplies the best and safest snus in the world to its customers.Swedish Match believes that consumers and the public have a right to know what the company knows about snus. Accordingly, Swedish Match communicates and provides information about GOTHIATEK® and the company's products and their contents. Swedish Match are proud of what they have accomplished, but they strive towards products with even higher quality and even lower undesirable substances. Swedish Match continue to develop GOTHIATEK® in pace with new findings, innovations and technological achievements.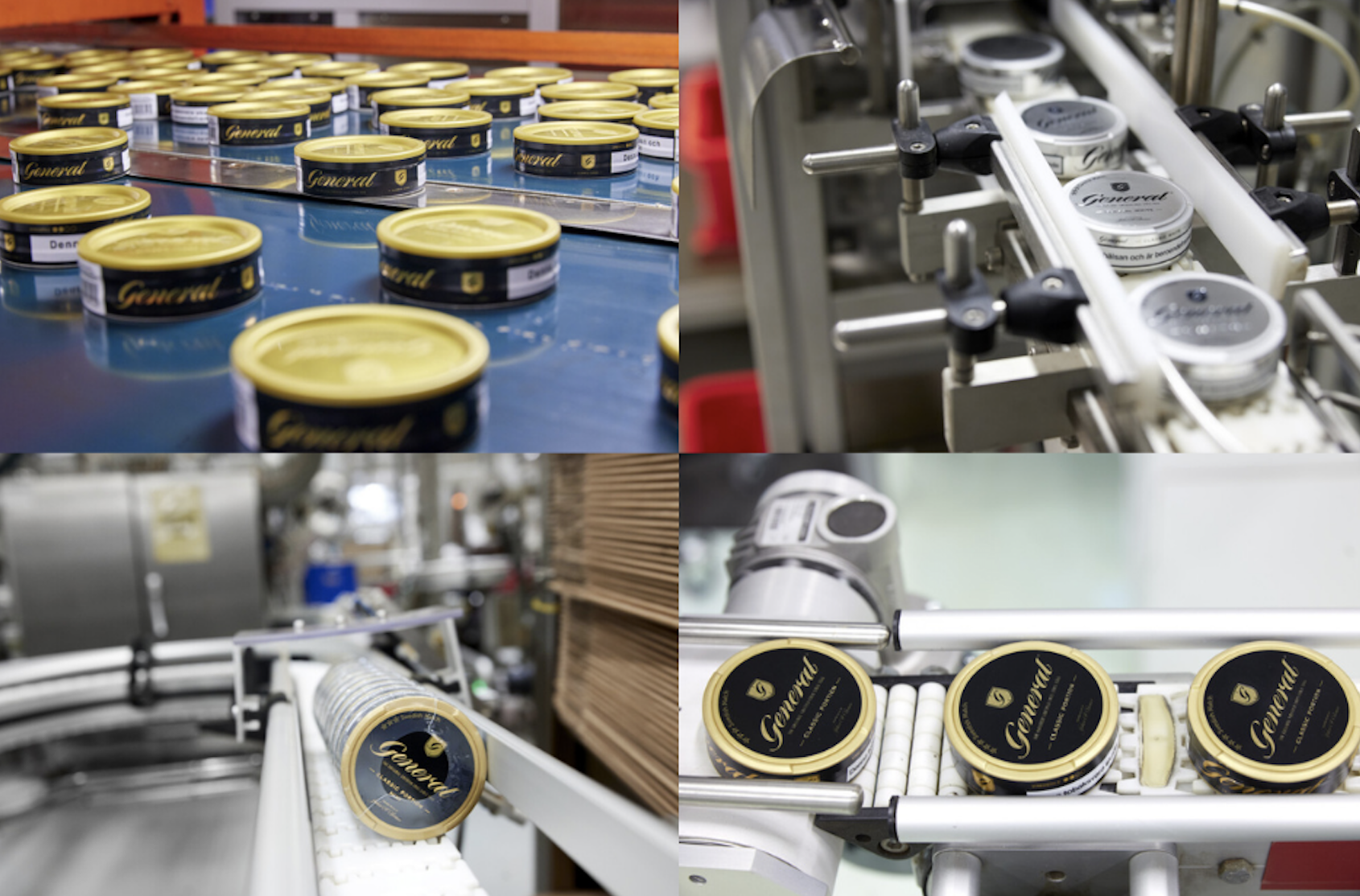 My name is GENERAL Snus, but people call me ...
The original and correct name of GENERAL products are GENERAL snus, but in each country there is different ways how they call them - GENERAL nuuska, GENERAL prill, GENERAL prilla, GENERAL nicopods, GENERAL snuff, GENERAL снюс, GENERAL pouch, GENERAL pouches, GENERAL nicotine bags, GENERAL nicotine pillows, GENERAL chew bags, GENERAL nico pods, GENERAL chewing tobacco, GENERAL chew, GENERAL dip, GENERAL dipping tobacco, GENERAL snuss, GENERAL السويدية snus, GENERAL smokeless tobacco, GENERAL bag under your lip, GENERAL snus suédois, GENERAL sachets de nicotine, GENERAL Snus sueca, GENERAL bolsas de nicotina and much more.
Looking for a convenient and hassle-free way to shop for the GENERAL snus products you love? Our website offers a range of benefits that make online shopping a smart choice. With a user-friendly interface, easy navigation, and a wide selection of products to choose from, you can find what you need quickly and easily. Our website also offers secure payment options and fast, reliable shipping, so you can receive your products quickly and safely.